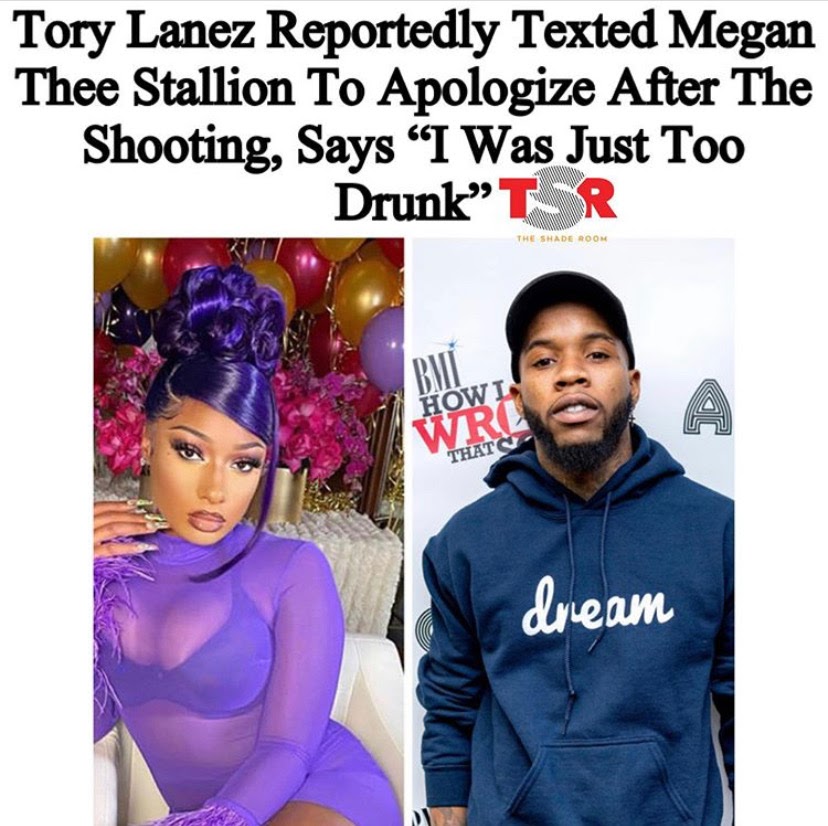 In July, rapper Megan Thee Stallion hit the news for something not related to music. She went to Instagram to share the news that she had suffered gunshot wounds and that the shooting was intentional. 
  The incident took place in Hollywood Hills early Sunday morning, and officers were present on the scene. Officers were called to the scene because of a fight happening outside of a house party, at Kylie Jenner's house. 
   Witnesses say there was an  argument inside of an SUV and followed by  gunshots outside of the party. In the SUV were Megan Thee Stallion, rapper Tory Lanez and an unidentified woman.  
   At the time of the shooting, Megan told the police she had stepped on glass, but she had been shot in both of her feet. She claimed she lied out of fear of how police would react if they knew there was a gun involved because they were "aggressive" from the start. 
   The police drove Megan to the hospital to treat her injuries and Tory Lanez was who was armed with a gun during the incident arrested for carrying a concealed weapon in a vehicle, later being released  on a $35,000 bail. Megan was very private regarding the details about the incident until recently. 
   There were a lot of rumors circulating about the incident, Megan Thee Stallion decided to identify Tory Lanez as the shooter because of misinformation spreading online. She stated this on an Instagram live video Aug. 20 and named Lanez as her shooter  saying "You shot me." 
   According to the rapper's Instagram live, she says she was in Lanez's car, with Lanez, his bodyguard and a friend of hers. The four of them were arguing. Megan, who was sitting in the front seat, exited the car. She claims that Lanez shot her through the car's back window. As for the reason Lanez wanted to harm her, it remained unclear.
   A rumor that was circulating around was the shooting was related to Lanez having romantic interest in Kylie Jenner. Megan set the record straight and said this was not the case. When explaining the reason why she was shot she explained it was "no reason," said Megan.
   Another rumor that was spreading on the internet was that Lanez, who is originally from Canada, has been deported. This was deemed untrue by one of Lanez's Lawyers, Jim Lewis.  "ICE has not been involved in this at all," said Lewis. Representatives of Lanez did not respond immediately to the shooting claims. "We're not commenting right now," said Lewis in a public statement.
   The LAPD, Los Angeles Police Department, originally had difficulty finding witnesses to help with the investigation. Law enforcement was looking into the incident for further investigation before Megan even made her public statement. Police said Lanez's next court date is Oct. 13 regarding the incident. However, all of that has drastically changed due to a public statement Lanez made recently. 
   Recently, Tory Lanez claims he allegedly opened fire on Megan Thee Stallion because he was intoxicated. "I was just too drunk," said Lanez. He claims he sent her a text apologizing shortly after the incident while she was in the hospital. The L.A. County D.A. is considering charging him with felony assault with a firearm.
Megan hasn't responded publicly to Lanez 'statement. Lanez has yet to 
receive any consequences or punishment for his criminal actions.