Let it Snow: Florida Edition!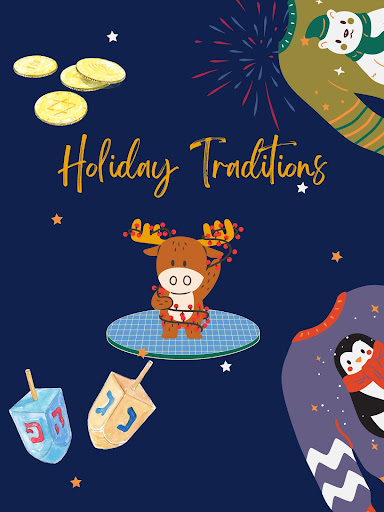 As Thanksgiving comes to end, the festive season begins and the holiday decorations are starting to be put up. There is only one more week until the semester ends and students plan how to spend their winter break, which includes holidays like Christmas or Hanukkah. Students and faculty are celebrating with different traditions, including decorating their rooms or homes, baking holiday goods and doing other festive activities.
        One of the most celebrated holidays this December at Prep is Christmas. For certain students, Christmas is their favorite holiday and each person celebrates it in unique ways. Decorating is very common for many families to get into the festive season. 
"My family puts up a Christmas tree, an elf on the shelf and a girlfriend elf, and we also hang Christmas light garlands around our house. One of our favorite family traditions is making gingerbread houses and cookies," said senior Maddy Scharf. 
     Students celebrating Hanukkah also have traditions they are celebrating with their families for the holidays. Some popular Hanukkah traditions are baking holiday goods, lighting a candle every day, and giving gifts to each other.  
"My family loves to get together and cook potato Latkes and play the dreidel game during the holiday season. We also light candles around sundown each night in December and open presents," said senior Samantha Rutskin. 
     Some of the faculty has even begun putting up holiday decorations as they get into the festive season. All around Prep holiday lights and mini Christmas trees are seen in teachers' classrooms, giving students and faculty excitement as they look forward to winter break. 
"I like to decorate my room because it reminds me of my mom. When I was younger my family put up thousands of decorations, so it reminds me of my childhood and makes me happy," said math teacher, Brian Sarkozy. 
The holidays bring joy and happiness to people during the festive season. Prep students and faculty celebrate Christmas, Hanukkah  and other holidays in their own unique ways. Whether it's spending quality time with family and friends or enjoying holiday traditions like decorating or baking, the holidays are something to look forward to every year.