Steel Magnolias, No Longer Just A Flower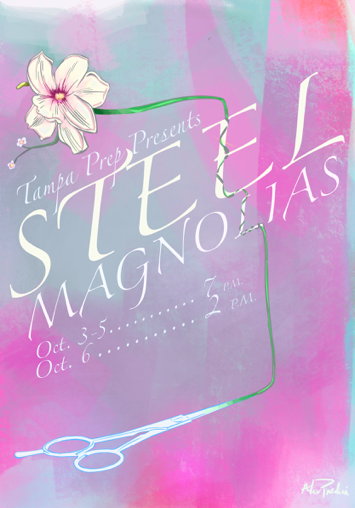 Tampa Prep's theatre is putting on its first performance of the year, this time completely created by students in the program. Opening on October 3rd, the Black Box theatre will present "Steel Magnolias."
   "This is my first ever play that I've directed. I'm really anxious and nervous, but very proud of the work and dedication that is being put in by these amazing women," Senior Alondra Rios said. Being the second student directed show at Tampa Prep, "Steel Magnolias" directed by senior Rios. 
  "Steel Magnolias," originally a play, was turned into a movie made in 1989. This film starred actresses, Dolly Parton and Julia Roberts. Following six women in Northwestern Louisiana, this story features the lessons life has to offer as the women endure hardships, illnesses, and love. Everyone can see how the women are able to overcome all obstacles thrown at them.
   "I chose Steel Magnolias because it really combines the beauty of women, with their grace and elegance," Rios said. "Showing that they are really strong and no matter what hardships happen not only by themselves but together they are strong." 
   Stage managed by senior Sammy Alvarez, and starring seniors Alexandra Paglieri, Marissa Schabes, Wren Livesay, Emma Stephens, Christine Dvorak and junior Abby Sarmat, "Steel Magnolias" will make you laugh, cry, and appreciate the people in your life who support you through thick and thin.
 The all-female show is running from October 3rd through the 6th. Tickets will be sold at the show as well as online, if you purchase your ticket online you will receive a Publix cookie upon entering.