Zach Ingrasci at Tampa Prep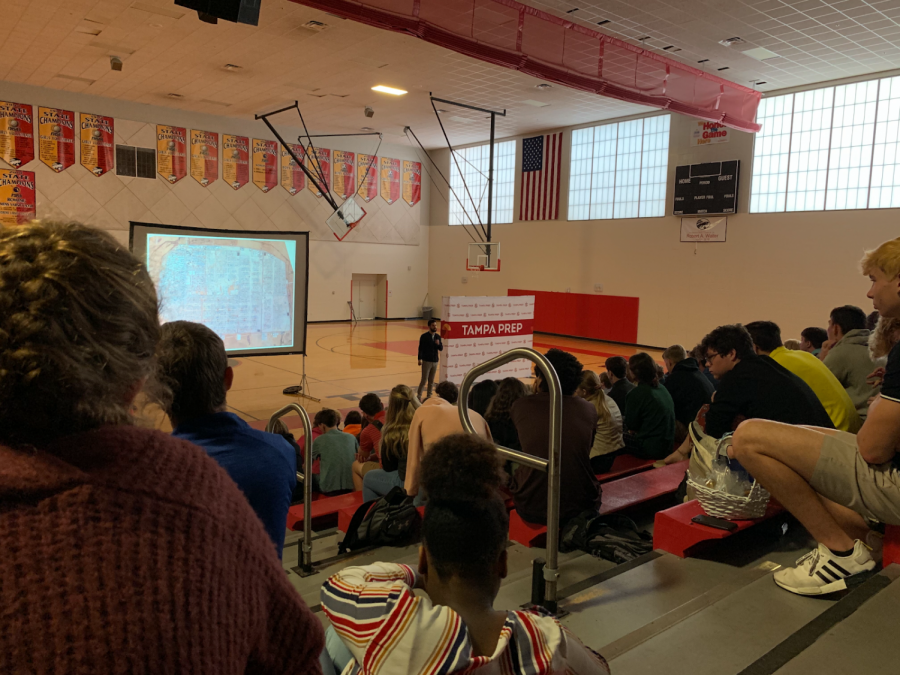 Tampa Prep had the pleasure of welcoming producer and director, Zach Ingrasci, to campus this week. The films he has produced, directed, and starred in are very different from your average blockbuster. 
   His first film "Living on One Dollar" was originally just a summer break trip to Guatemala that was going to be uploaded onto YouTube. "We were just planning on making YouTube videos and we just wanted to spend our summer in a meaningful way," said Ingrasci. They decided to live on just one dollar daily in an impoverished community. 
   Once uploaded the YouTube videos gained mass amounts of popularity and Ingrasci and his team decided to make it into something more than YouTube videos. " We wanted to show our peers this message that small changes can have a huge impact in this community" said Ingrasci.
    Ingrasci and his team went on a four-month tour for the film while living in a school bus. With lots of help and support from fellow students, the film got seen by CBS. "When it hit the front page of Netflix it kind of exploded," said Ingrasci. In just a  few months the film had helped to raise almost a million dollars in the Guatemalan community. 
   The experience was definitely moving for Ingrasci and his view on poverty. "They kind of redefined poverty for us. Instead of poverty being about how much money you have, it's really more about how much opportunity you have" Ingrasci said. His film shed light on this issue that many of the impoverished face daily.  
   The members of the community in Guatemala do not have many opportunities, but one person in this community defied all odds against her. Rosa, who was featured in the film, is the first to go to a University from her community. She is one semester away from graduating nursing school. " She has just become this incredible resource for this community, being somebody who understands the community and has the skill set to help them," said Ingrasci. 
   His second film, "Salaam Neighbor", takes watchers into the world  of Syrian refugees. Ingrasci and his filming partner Chris Temple filmed this while living among refugees in Za'atari Refugee Camp. 
   It was an emotional experience for Ingrasci and his team. The hardest part was knowing the trauma the people whom he had befriended went through. "The really hard part about that experience was knowing the amount of trauma our friends had gone through. I could never relate to that part of it" said Ingrasci. 
   Many of the young kids in the camp had experienced many traumatic experiences due to the Syrian civil war. A big character in the film, Raouf, was a 10 year old boy who welcomed Ingrasci and his crew with kindness. He had not attended school since he had first arrived at the camp two years earlier. Ingrasci and Temple were trying to give a little push to make Raouf attend school because they wanted to help their new friend. 
   It is then revealed why, his school had been bombed in Syria. "It's so easy to see people as similar to you but they have gone through this truly unimaginable experience," said Ingrasci. This was heartbreaking for Ingrasci while filming. "I think that was the hardest part of realizing this entire generation, like Rauof, was going through this collective trauma," said Ingrasci. 
   The film changes the audience's perspective of who a refugee really is. "We need to start talking about them as real human beings and realize that they have so much potential" said Ingrasci. Refugees are not the stereotype of impoverished people that many would assume, they are people of all classes who were forced to leave their homes.