Police Violence at Tampa Protests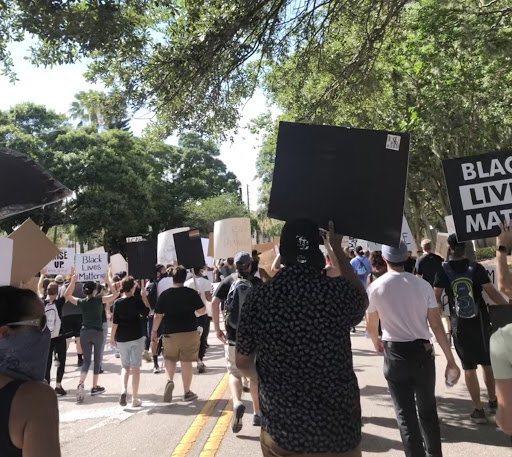 This summer was a summer of protest. In the wake of George Floyd's murder, rising public outrage resulted in protests demanding justice for him and the countless other Black people killed by police, along with a re-evaluation of the American police system itself. 
   These protests have occurred in cities across the country, including here in Tampa. As people have protested racism and police brutality, the very police departments they have been protesting have responded with even more violence.
   Susana Matta Valdivieso, a local activist, described the presence of police at the many protests she has been to this summer as "overwhelmingly violent and counterproductive," saying that violence only began at protests once cops showed up. 
   "It's extremely strange to go to a protest to protest police violence and then be met with police violence," Matta Valdivieso said. "It makes absolutely no sense and just proves our point."
   Alyssa Ackbar, State Director of March For Our Lives Florida and local activist, also saw violence when she protested in the Tampa area.
   On July 4 at a protest in South Tampa, Ackbar saw firsthand how the Tampa Police Department (TPD) treated protesters.  
   According to her testimony, a group of police on bikes came out of a side street, drove in front of the people holding a banner at the front of the protest, and dropped their bikes on the protesters holding it, knocking them to the ground. More police came and surrounded the protesters, "kettling us in," as Ackbar described. They started tackling people to arrest them and sprayed pepper spray at others.
   "It was very eye-opening," Ackbar said, as this was her first time seeing police violence towards protesters in person as opposed to reading about it in the news. 
   Susana Matta Valdivieso faced this violence personally when she was tear-gassed and shot with a rubber bullet in her back at a protest at Cyrus Greene Park.
   She described how the protest was a peaceful gathering that had community speakers, food, water, medics, music, and people dancing until police in full riot gear arrived. Matta Valdivieso had no protection other than a bunch of goggles she brought to pass out to people just in case things got violent. 
   She and the other protesters kneeled together in front of the cops. "We were trying to show them how peaceful we were," she said. "We knew they were trying to start s—."
   From what Matta Valdivieso remembers, someone threw an empty plastic water bottle at the cops and it hit one of their shields. In response, the police threw a canister of tear gas and told the crowd they had three minutes to disperse. She ran once they shot the first rubber bullet.
   Running away from people shooting at her, she recalled thinking "this is exactly what I went through in school." As a survivor of the mass shooting at Marjory Stoneman Douglas High School in Parkland, Florida, she has a very traumatic personal experience with being shot at that was only worsened by this violence. 
   "It felt like deja-vu," Matta Valdivieso said. "In my head I went back to then, I went back to my classroom. I was prepared to die."
   As she was running away, a cop shot her in her back with a rubber bullet, ripping a hole through her book bag and leaving a painful mark on her back that lasted for months.
   Jae Passmore, community organizer, also faced this brutality when she was arrested by TPD at a protest.
   Passmore described how on Aug. 13 at a protest, multiple unmarked police cars pulled up around her and she was tackled to the ground by police. All she remembers from the moment was the feeling of the cop kneeling on her back. 
   "My lungs were burning, my spine felt like it would snap, I tried to scream but I couldn't breathe and I tried to get as much air into my body as possible," she described.
   As Passmore recovered from the incident, she remembers wondering what would have happened if that night went differently. "I thought I would die right there and my mom would have to watch the video of my death."
   Ackbar, Matta Valdivieso, and Passmore each saw and experienced violence at the hands of the Tampa Police while protesting. They are three of the thousands who protested in Tampa against racism and police violence and the many who experienced brutality as they advocated for justice.