Disney World Provides Safety Precautions as COVID-19 Continues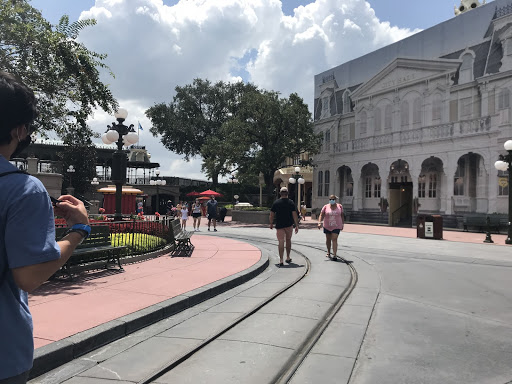 Over Labor Day weekend, I paid a visit to Walt Disney World's theme parks, specifically Hollywood Studios, Magic Kingdom and Animal Kingdom. During this era of COVID-19, Disney provided certain rules and regulations to ensure the safety of guests. 
     At every entrance to the parks, rides and stores, there were stickers indicating safe distances to stop and wait. As the lines moved forward, guests were to move forward according to floor markings. Mini hand-washing stations were set up throughout the park, along with many hand sanitizer dispensers set up at the end and beginning of every entrance.They also had glass shields set up, ensuring less contact between guests. 
     Every guest was required to wear a mask throughout their entire visit. No individual would be allowed in the park if they were not wearing one. There were times where I was able to take off my mask if I was eating in a restaurant or aside from the walkway. It got a bit tiring to keep my mask on for the entirety of my park visit, as Florida weather is quite hot and humid!
     The park was also able to maintain a safe distance at sit-in restaurants, having certain tables blocked off from guests to sit at.  If rules were not followed, a cast member employee could have come up to me to advise me to do the previously stated. Along with these rules, it was also required for guests to wear masks on rides. I found this to be challenging for certain roller coasters because my mask would sometimes start to fall off.
     In every ride and transportation, they either had a party in a vehicle to themselves, or they were able to safely distance each party in one vehicle. On the monorails, in each segment, they separated one whole section with material separating it into two. They had each party go into their own separated section to prevent contact between guests. On certain rides, like Pirates of the Caribbean, they had each party go into every row they fit in, and if there was any space, they put in another party multiple rows away from the other. 
     I thought that Disney World had a great system and set up that made me feel very safe from the virus. I liked how they ensured that everyone followed these rules because some people in the park may have been more in danger if they were to get it. This made me realize that as time goes on, the word needs to adjust to this new normal and it's not so bad. If I had the opportunity to go again, I would in a heartbeat!