What's Going on With Second Semester Senior Traditions?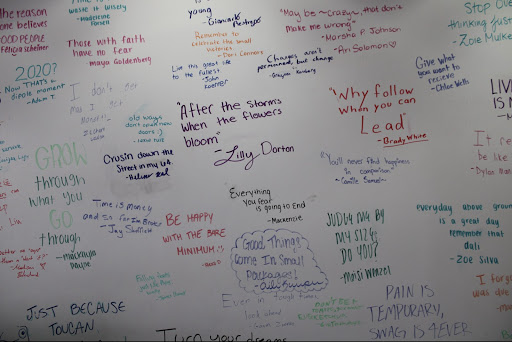 When the school year began this year, seniors had no idea what their final year of school would look like. Would they be able to partake in the time honored traditions every senior looks forward to? Five months have passed since then, and the Class of 2021 has already watched the sunrise, signed the rock, chosen their six-word memoirs, had a movie night, and almost beat Berkeley at Headmasters! Still, there is more to come for the second semester, and our Student Council and School Administration are working to create the best possible experience despite the complicated circumstances.
   "Overall, the process has been very difficult," Giancarlo Restrepo, Student Council President, said of his work to help make senior traditions happen. "There's a lot of frustration, a lot of disappointment," he explained. 
   As hard as he, other student council members, and school administrators have worked, there are just some traditions like senior internships that aren't possible this year.
   "There aren't enough places that are up and running that would be comfortable having a senior come in and do an internship and it wouldn't be a fair expectation for students," Carl Carlson, Dean of the Upper School explained.
   Seniors "will still get out a little bit early" even without internships and while "that date isn't locked in yet, it'll be early May at some point," he said.
   According to Carlson, if students want an internship and can get one, the school will work to help them, but there will be no requirement to have one
   This doesn't mean everything will be canceled, however. 
   "Yearbook Day, Senior Celebration, Beach Day, Graduation, and all these things, we'd like to have many of those this year in some form," Carlson said. 
   At the time of this interview, he was in the process of creating a list detailing which events and activities will be held, when they will take place, and what precautions the school will take to ensure the safety of the students. Today, this list has been shared with the senior class so any student can check to see what will be happening.
   Senior Skip Day, which just took place this Monday, was one event Restrepo had been working on for a while.
   "It's usually the day after the Superbowl and that day was in jeopardy, but I really wanted to push it to that Monday despite it being awkward with scheduling," he said. Initially, he wanted seniors to get both Monday and Tuesday off while Administration wanted it to take place on a Friday with a Zoom schedule, but they managed to compromise. 
   To him, "having that extra day off after the superbowl is worth it" and he put a lot of effort into making it happen. "I honestly have a meeting with Mr. Carlson at least four times a week" for planning, Restrepo added, but the extra time he spends is worth it to him.
   There are also some individual grade-level activities in the works. "For the seniors I have something I want to plan with Mr. Morrison and for the freshmen I'm planning a movie night for them," Restrepo said. These class events, while smaller than other traditions, still make up an important part of a fun final semester with activities for all Tampa Prep students to partake in. 
   Yearbook day won't happen in its original form — a large all-school celebration in the gym — but will take place in some fashion.
   "We want to find a way to both celebrate the seniors and hand out yearbooks so we'll do something that'll be outside in some format," Carlson explained. 
   He and the rest of administration aren't sure what the final event will look like or when it will take place, but they are working to find a solution. Most likely, "it will be a little closer to graduation than normal," he said.
   Senior Celebration, a dinner with performances where senior awards are given out, likely won't happen in its original form either, but "maybe we want to do senior awards and have some sort of culminating thing and that may be on our field as well," Carlson said.
   For Beach Day, which normally takes place outside, modifications are a little easier. "In the past we've done things like say students have to take the bus but this year we're not going to pile a bunch of people into a bus because that wouldn't be safe with Covid," Carlson said. "Are there enough people who still want to go who can drive, we're working through things like that," he added.
   Seniors had an outdoors graduation last year, and that is likely what will happen this year as well. "May 26 is the date that's out there and that's something we're still targeting," he said. This year, he hopes graduation won't have to be pushed back, making it the final send-off for seniors at the end of the year.
   Carlson also discussed the possibility of a senior prom, saying "we're even working on an outdoor prom option and I don't know if we'll be able to make it work but we haven't canceled prom at this point." 
   As a senior, "this year has been disappointing overall with how everything has been going on" for Restrepo, and many others likely share the same sentiment. Still, he believes that we can stay strong and make this year the best it can be as long as we stay hopeful. 
   "We need to have that optimism, to have that support for one another, and I think that's essential and so huge this year. It's all we can do," Restrepo exclaimed.