What Went Wrong with Kansas City Chiefs in Super Bowl LV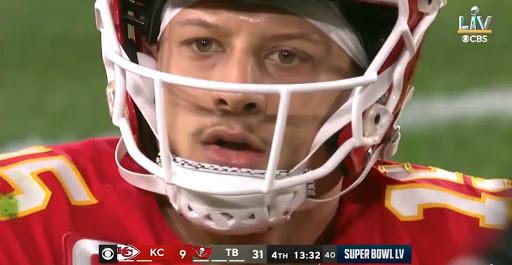 The 14-2 Kansas City Chiefs made it to the Super Bowl for the second year in a row, but their hopes of bringing home another Lombardi trophy went up in flames as they lost 31-9 against the Tampa Bay Buccaneers on Feb. 7.
   So what went wrong with QB Patrick Mahomes and the Chiefs that caused them to not score a single touchdown the entire game?
   Pretty much everything.
   On the offensive side of the ball, reshuffling the line and playing without starting tackles Eric Fisher and Mitchell Schwartz ended up really hurting the Chiefs. The line was more than overwhelmed as they could not manage the Buccaneers pass rush, forcing Mahomes out of the pocket and scrambling on practically every play. He finished the game completing only 26-of-49 passes for 270 yards, with two interceptions and three sacks.
   However, despite facing more pressure than any other QB in Super Bowl history, Mahomes still played a relatively strong game and honestly deserves a lot of credit for the amount of adversity he had to face. His mobility helped him out greatly; he managed to make incredible, perfect throws — one of them being while he was parallel to the ground — but unfortunately, many of these throws were dropped by his receivers.
   This was its own issue in and of itself. With a team composed of one of the best wide receivers and tight ends in the league, no one could have ever imagined the Chiefs having an issue with their players dropping passes like Nelson Agholor.
   As for the defense, many of their problems were solely self-inflicted. They were basically shooting themselves in the foot as more and more penalties kept being called against them. The Chiefs finished with 11 for 120 yards, committing the most penalties for the first half in Super Bowl history. The Bucs, however, only had 4 penalties for 39 yards— with Tom Brady leading the team, players learned how to play disciplined and minimize the penalties that can blow a game for a team.
   Coaching wasn't too great either. Head coach Andy Reid looked a lot like the 2004 Philadelphia Eagles head coach Andy Reid that did not know how to manage the clock. When you're down 22 points in the 3rd quarter of the Super Bowl, going to a no-huddle offense would be the smart choice.
   But that didn't happen.
   Reid was taking his sweet old time, which was all-in-all just frustrating to watch. Once again, you are down 22 points in the 3rd quarter of the Super Bowl… and you're going into a huddle. This made it impossible for the offense to get any sort of rhythm going.
   "They played better than we did, and that's my responsibility," Reid said. "I take full responsibility for it. You can't do the things we did and beat a good football team like that, particularly at this level."