Super Bowl Chaos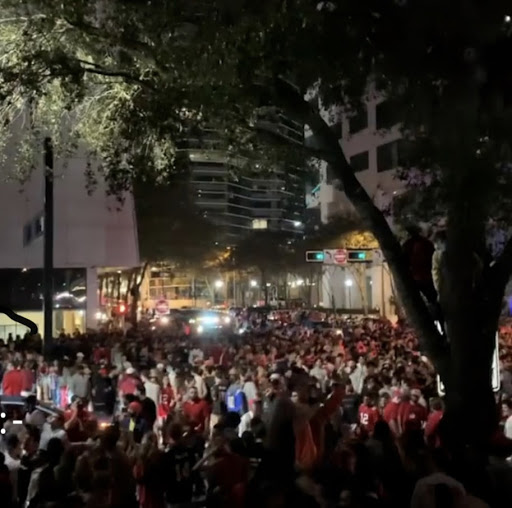 When the final whistle was blown marking the victory of the Buccaneers in the Super Bowl, that's when it happened. The streets of downtown Tampa were flooded with ecstatic fans and overjoyed Tampa residents. After winning our first Super Bowl in 18 seasons, most fans had some built-up excitement that needed to be let out. 
   However, the way most fans celebrated was frowned upon by many others. Fans crowded into downtown Tampa, most maskless, and proceeded to celebrate the Buccaneers victory. Along with large crowds gathering, many fans, primarily college students, decided it would be a good idea to climb signs, light poles, trees, and to get on top of buses. 
   Zachary Gallagher, a junior at Tampa Prep who was watching the game downtown, said, "the city seemed like a war zone. The noise didn't stop until around 4 in the morning and even then there were still people celebrating." 
   While the city and Bucs fans around Tampa rejoiced in celebration, Tampa Mayor, Jane Castor was frustrated with the fans. In a conference with the Super Bowl Host Committee, Castor said, "it is a little frustrating because we have worked so hard." After planning for the COVID-19 safe Super Bowl for months, it is clear to see why Castor would be disheartened. 
   However, we can look on the bright side. Following the Eagles Super Bowl win in Super Bowl 52, many Eagles fans ran to the city of Philadelphia. Buildings were robbed, cars were burned and the city was filled with utter chaos. Many Eagles fans believed that their way of celebrating was perfectly alright. 
   Same with the fans in Tampa. Although we have a global pandemic amongst us, many fans instinctively flocked to Tampa in celebration of the Bucs' Super Bowl victory. When the Bucs won, many fans forgot about what was going on in the world and followed behind one cause, celebrating the Bucs. 
   Even though the fans didn't treat the city the nicest way possible and they didn't wear masks during the celebration, it was nice for Tampa to forget about what was going on in the world. Even if that break was only for a few hours, many fans were able to experience something most people haven't experienced in a while now, that being normalcy. 
   With the Bucs win in Super Bowl 55, it brought many people to the streets of Tampa, but it also brought a sense of normalcy back to the streets of Tampa and throughout Florida.