Paige Rodriguez Sets Tampa Prep Track Record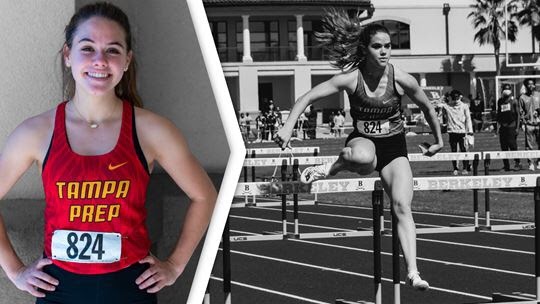 Note: Since this article was written, Paige has broken her own record at the Warrior Invitational, completing the 300m hurdles in 47.88 seconds.
   At the Berkeley Invitational Track Meet on Feb. 20, Paige Rodriguez ('22) set an all-time track record for Tampa Prep of completing the 300m hurdles in 48.94 seconds. This beats the previous record-holder, Alyssa Moore ('16,) whose record was 49.02.
   Rodriguez has been running hurdles for the track and field team every year she has been at Tampa Prep. In middle school, she was placed on the Varsity track and field team due to her great abilities and their need for more runners to participate in the hurdles category.
   "No one was doing the hurdles [in the highschool] and I showed interest in it," said Rodriguez.
   Already holding an impressive record of making it to regionals every year, track coach Heidi Sabean was not surprised that Rodriguez was able to achieve this feat.
   "I noticed right away that she had potential," Sabean said, "If you know track, you know a runner when you see a runner."
 During the 300m hurdle competition, Rodriguez was feeling pretty confident in herself
  "In the past whenever I've run it, I'd be exhausted halfway through, but I felt pretty strong throughout the race, which was a nice change," Rodriguez said.
   But it wasn't until she got her scores back that she realized just how good that she did. She placed third and completed the run in only 48.94 seconds, which brought her and Sabean much excitement.
    "We saw that she broke the record and I actually got a little teary-eyed," said Sabean, "We gave each other a really big hug and it was just a great moment."
   Rodriguez hopes to continue her success on the track team, confident about her abilities to make states this year and breaking more Tampa Prep records. In addition, Rodriguez plans on being on her college's track team.
   "Originally I wasn't really too sure, but over the summer I decided I wanted to actually run in college," Rodriguez said, "If I have the opportunity, I definitely would jump on it."