Red Shell's Road to Reinvention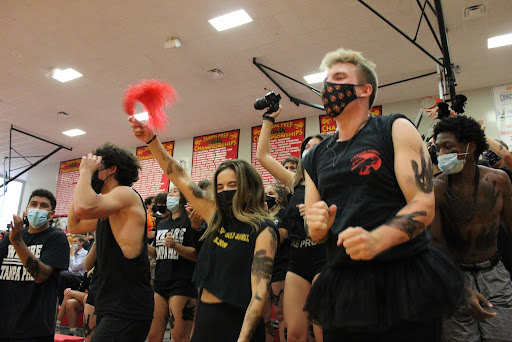 This year, Tampa Prep's spirit group, Red Shell, led by seniors Gage Mills, Audrey Evans, and Jia Habib, plan to cheer and encourage Terrapin teams more than ever before.
Due to COVID-19 calling for many regulations, the past year has lacked school spirit at sports games. Many games didn't allow spectators which made it difficult to rally people to support teams, and ultimately vitalize student atmosphere in confusing times. Students that had the opportunity to attend games adapted to a new game climate with safety precautions.
"I went to a few soccer games last year, and there weren't that many people there. It was just kind of quiet and not very exciting. The energy was pretty low," said junior Emily Laartz. 
In order to maximize student turnout for all teams that represent Tampa Prep, the new heads, with the help of Student Body President, Mackenzie Capella, have reorganized Red Shell's leadership and put into place Red Shell grade reprepresentiaves.
"We felt that it would make the whole system more connected, so you don't just have seniors encouraging seniors to come to games. Instead you have the representatives also talking to their own grade telling them to come to games, and bringing spirit on all levels of campus, " said Capella.
As the group reintroduces itself as a powerful leader in school spirit, the heads of Red Shell have come up with new ways to expand the assembly's efforts. As Tampa Prep returns to a more normal school year, Red Shell works to re-implement old strategies for spirit and come up with new ways to engage the student body. To do this, Mills, Habib, and Sophia are making new strides in social media, energy at events, and priorities for this upcoming school year.
"Things are in the works. We're working on getting a couch that people can enter raffles to sit on during games. We're implementing more themes to get people more excited, as well as incentives like 'best dressed' that rewards the winner's whole grade a t-shirt day. Generally, just trying to get people to go to more games like swim meets and bowling," said Evans.
Evans also runs the Red Shell Instagram, @tpredshell to promote athletes and games. The page spotlights athletes and their accomplishments, showcases hype videos, posts stories on current sports news, and even uses designs made by Sophia to enhance graphics for game promotions. This new wave of getting out information has improved outreach to all kinds of students.
"It's marketing and advertising while also making it a cool Instagram by editing graphics and using photographs from the game. If we hadn't posted stuff, we wouldn't have had nearly the amount of turnout," said Evans.
Red Shell's new plans have already been shown to improve student energy at sports games as seen at the very first volleyball match against Mckeel Academy on August 26. Generated by the multiple social media posts, incitement from the heads, and spread of word, energy at the game was unmatched. Within the student section, Terrapins fed off each other's spirit, passion, and chants.
"The energy was very high and lots of people came out and supported our volleyball team. It was really great," said Laartz.
For more information on Red Shell, upcoming games, and to join in on the fun, follow Red Shell on Instagram: @tpredshell.