Tampa Prep's Fresh Faces from Far off Places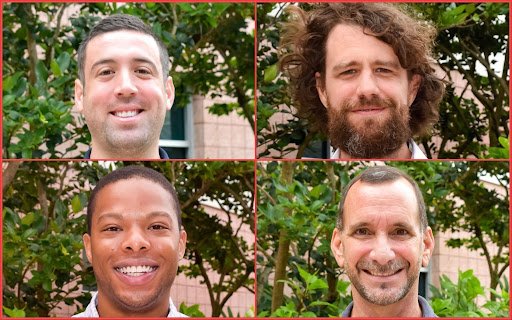 At the start of every year, Tampa Prep welcomes a plethora of new teachers to help grow their repertoire and this year is no different. New teachers have arrived at Tampa Prep and have come from far and wide to share their passion of learning with the student body.  
While new to the upper school history department, Payton Lee Jones  is no stranger to Tampa Prep.  Not only did he serve as a substitute teacher during the second half of the last year, but he is also a Tampa Prep alum, having graduated in 2002. He is  a published author, hoping to bring a new perspective on the civil rights movement to Prep. 
Hailing from Connecticut, Doug Henton takes up the mantle of seventh and ninth grade English teacher. 
"Harknesses have been a blessing," Henton said when asked what he hopes to accomplish through some of Tampa Prep's unique learning methods. "It's a space where [students] can express their world views into learning points for others." 
The new upper school mathematics teacher, Dave Folmer,  is proud to call Florida his home once again. He's been all over the pacific islands, from Nepal, to Japan and hopes to share his love of traveling with his students. 
He hopes to breathe new ideas into the math curriculum, he specifically wants to "keep (learning) fun and making it creative" 
Folmer isn't the only one who's lived in some exotic places. Daniel Kidd, our new economics teacher, has been all over South America and has held a variety of jobs there as well. From lifeguard to special education paraprofessional he could talk for hours about his time spent teaching and working abroad. He hopes to bring his previous experiences into the classroom and use it as context for discussing things like economics and class divide, as well as giving sound money advice along the way.
When it comes to teaching film and video production, it's important for the teacher to have plenty of experience working on the frontline of the industry. Luckily enough, the new video productions teacher, Daniel Gold, fills that role perfectly.  Alongside being an award winning screenplay writer He is also a former college lacrosse coach, and hopes to bring his passion to Tampa Prep with full force.  
"[the school] has a very awesome foundation, our labs with the macs are fantastic and give the kids everything they need to work with…'m looking forward to working with the admins on getting some cooler cameras in here and getting stuff that is more portable and streamlined," said Gold. 
Each teacher comes from a different walk of life, but they have all decided to call Tampa Prep home. No matter where they come from, one thing is common between all of the new teachers, they're excited to be a member of the Tampa Prep family.