Chorus Journeys into 'La La Land' for Fall Showcase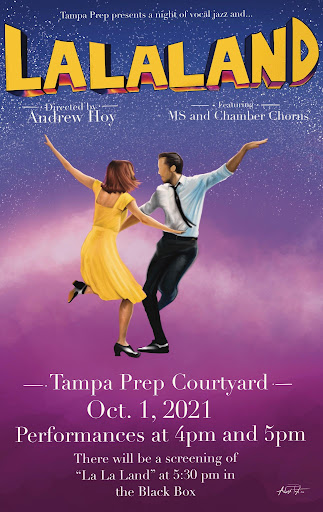 The Tampa Prep Middle School and Chamber Chorus will put on their first in-person showcase since 2019 featuring the music from the Oscar Award-Winning Movie, "La La Land."  The showcase will take place Oct. 1 in the courtyard, with two performances at 4 pm and 5pm, followed by a screening of "La La Land" in the Black Box.
   Over the past two years, the Chamber Chorus has not been able to do many in person performances, with many of their events canceled due to COVID-19., With saftey measures in place, they will once again share their talents live on campus. 
"I'm really looking forward to the energy we will get from audience members," senior chorus member Saorise McGarry, said."I'm really enjoying being able to perform for people again."
    The decision to sing jazz music, specifically, music from "La La Land," was made by chorus director Andrew Hoy in order to showcase a genre of music the chorus has not explored yet.
    "It's a different style than what we've worked on, so I think it pushes students a little bit because the harmonies and overall vocal styles are different," Hoy said. "It helps them all become more versatile singers because they have more experience in different genres."
  Additionally, the senior members of the chorus have been advocating to do La La Land, so they are very pleased with the decision. Senior Zachary Rodriguez was the one who first brought up the idea.
   "[Zachary] loved to play the theme song on the piano before our chorus rehearsals," McGarry said.
  The chorus will be accompanied by sophomore Lev Leclair on the piano, rather than having a teacher play the accompaniment  or using a back track.
"I'm excited to be playing, singing with them in front of an audience, I've never done it before," Leclair said."I'm sharing this experience with a lot of people."
More than anything else, chorus members are grateful to be reunited with each other for their first performance back.
"They are like my family, quite literally," McGarry said, "I think everyone is very much excited, no one is taking for granted the stuff that we have this year."