Hoops are Happening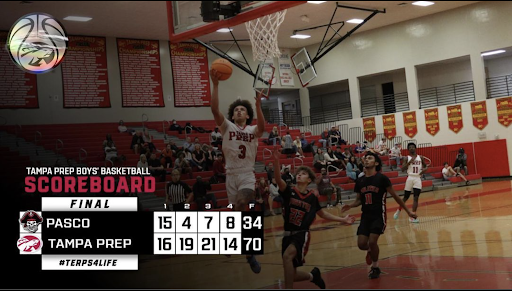 The 2021-2022 high school basketball season has begun, and the Tampa Prep Terrapins have assembled the team. There were upwards of 40 people at the boy's basketball tryouts the first week of November, and now down to 16 players.
Last year the Terps didn't perform as previous years, posting an 11-12 record and losing in just the first round of the district playoff. 
"Well, we are going to have to play a completely different style of basketball 
after last season,"Zach Carlson, a senior on the varsity squad, said.
With new additions to the team,  the team needed all the time they could get to prepare for the season, making summer league the perfect time to build chemistry.
"During summer league we played really well , the team had great chemistry as we were learning to play with each other. It felt good to be back playing together," Noah Ashe, a starter and one of the many seniors on the team, said. 
The team started off 0-3, but after two blowout wins, the team's momentum is heating up.
"We have been very focused on getting better everyday and building chemistry after those three tough losses," Austin Sigman, a forward on the team, said.
Tampa Prep is looking to bring winning culture back to basketball as the Terps prepare to continue their exciting season ahead. 
Looking ahead, The Boy's Varsity Basketball Team has their annual CTC Christmas tournament coming up over break and will look to continue their winning streak.