Tampa Prep's Own Arianna Mosley Scores 1,000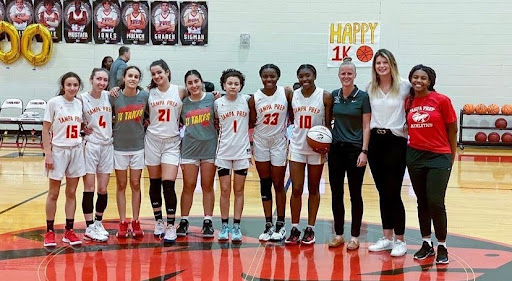 Arianna Mosley scores her 1,000th career point on Jan. 1. She scored this point playing for the Tampa Prep Girls' Varsity Basketball Team in a game against Bartow High School at the Tampa Bay Christmas Invitational. 
Mosley, a junior, plays guard and has scored more than 400 points this year. 
"I'm just glad I was able to celebrate with my friends and my teammates because I couldn't have done it without them," Mosley said. 
On Jan. 10, Tampa Prep celebrated Mosley's 1,000th point in a home game against Victory Christian. Mosley scored 28 points, along with the game winning free throw to win 51-50. 
"We're all really happy for her and this is a huge accomplishment," teammate Maiyah Hall said. 
Hall is one of the defensive anchors on the team and as one of the captains on the team, Hall works with Mosley every day. 
"[Mosley] worked really hard for this and her work ethic shows in our practices and the games," Hall said. 
Averaging 31 points per game, Mosley is ranked as the second leading scorer in Florida. With a record of 9-6, Mosley and Hall continue to lead the Tampa Prep Girls' Varsity Basketball team into battle as they look to be seeded as one of the top teams in their district.