Declamations Return to Normal-ish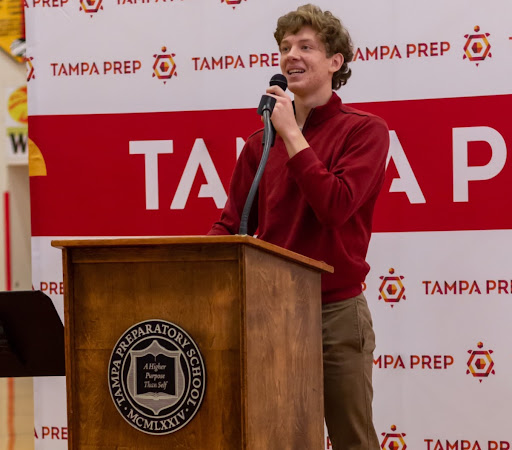 The Tampa Prep Community is hoping to return to in-person declamations this year after a limited, ZOOM competition last year; however, the rampant spread of the Omicron variant has made doing so unlikely. The English department is scrambling to decide how to preserve this long-standing school tradition as the Omicron variant continues to infect more people throughout the Tampa Bay community.
The annual speech writing and presenting competition has been a longtime staple in the Tampa Prep community, to improve students' confidence and allow them to explore topics they are passionate about.
 "I think it's good practice and preparation for when we are older," Senior Max Wenzel said.
The upper school English department is unsure how declamation competitions will occur differently this year after being held virtually last year due to COVID-19 to allow students to showcase their talent.
"I think it's a little early to tell how declamations will go this year," English Department Chair Stephanie Cardillo said, "Given that we don't quite know what omicron will do, it might be hard to have them normally."
Even as the coronavirus continues to infect many people in the Tampa Bay and Tampa Prep community, English teachers are hoping that declamations can return to normal with school-wide in-person presentations. 
"This year, I am glad we are not going back to having Zoom as an option–hopefully," English teacher Mia Franz said. "I think there's something really important about having the presence in the classroom, having to actually feel your audience engaging with you."