Sister, Sister: A Sibling Joins Prep Faculty in College Counseling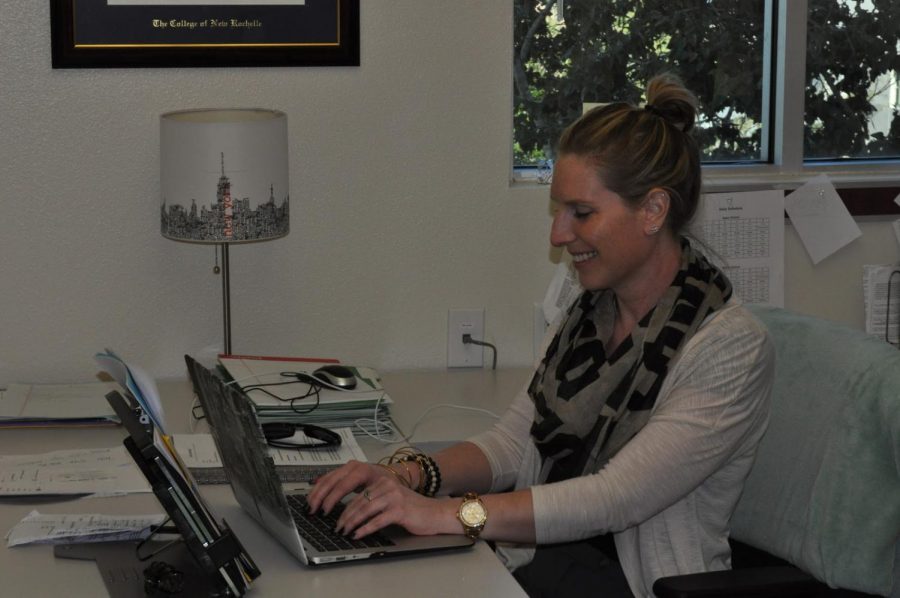 When you walk into the college counseling office, there a few new faces you will see. One of those faces is Kristin Grosso.  Last summer, Grosso was hired to join the staff as the assistant director of college counseling. While she will wear many hats in her new position, she will mainly guide students throughout the college preparation process and support them to do their best as they apply to different schools.
   Grosso joins her sister , sixth and seventh grade science teacher Kerri-Ann Grosso. Both sisters agree they have strong bond with each other and have similar interests like volleyball and dogs.
   "I am very excited to work with Keri-Ann ten years later," Kristin said.  "We worked at Plant City High School and I don't think they were ready for two New York girls."
    Kristin is from Long Island and is entering her twelfth year as an advisor. She previously worked at Riverview High School but struggled with reaching all of her students due to the fact that the enrollment was almost three times the size as Prep.Many things influenced her to come to Prep, but the main reason was how the community was so interactive with each other.
   "Prep is amazing, how you can just sit with one student for forty-five minutes and talk about colleges, their goals, and aspirations." Kristin said.
   Kristin is also looking forward to the different ways this new career can push her and challenge her.
   "[This] will push me out of the box to do things like I wouldn't want to do," she said.
   Kristin describes her new role as her "dream job," and is excited about the possibilities to travel and visit colleges again.
   "Prep will make me and the students grow," she said.
   Kristin is very excited for the school year and looks forward to the many more to come. She is optimistic and eager to create new bonds with the students she works with.
   "It is not about me, it is about the students and where they will go," she said.