On the Court
A First-Hand Look at The Headmasters Challenge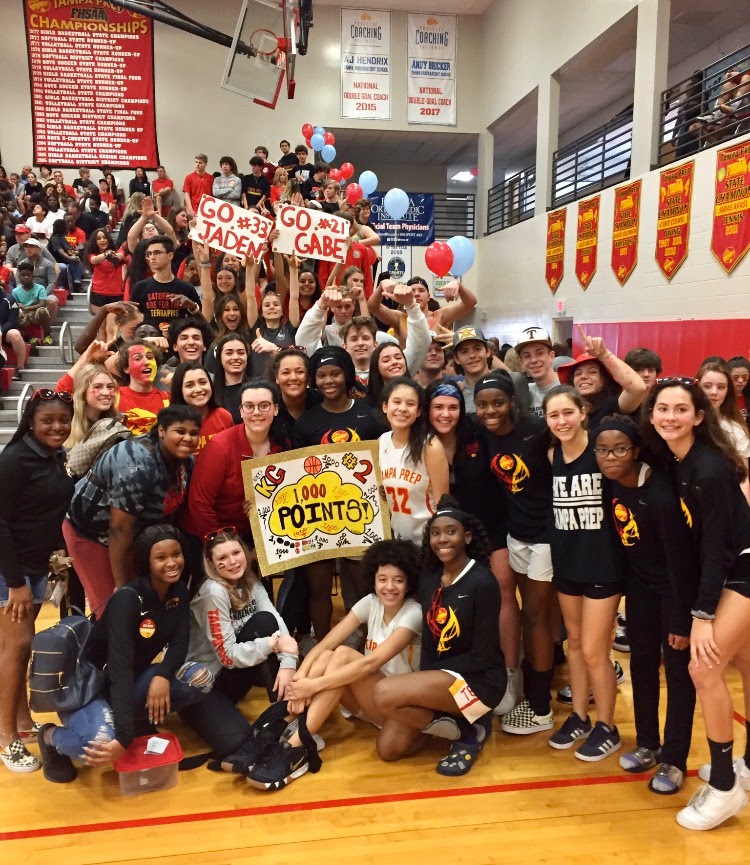 The entire stands are filled with people cheering for or against you while everyone is staring directly at you. As the lists of starters are called, finally my name. It's so loud in the gym but all I can hear is my breathing. I'd never played in front of so many people before in my entire athletic career. I was so nervous about messing up in front of everyone. Tampa Prep students were screaming chants while Berkeley kids screamed back as they clashed against each other. I'm used to no one coming to our games so to go from games that have maybe 20 people in attendance to a packed gym was a big step. 
   Within the first three minutes of the game, we were up 21-0 and I finally felt my body relax. I even started to have fun as we were clobbering Berkeley, every time I looked at the student section I felt my confidence and energy level rise. After a day of losing game after game, it felt great for my team to give our fellow peers a win they deserved. Everyone looked so excited as we completely shut down Berkeley the entire game. With every steal and shot, the crowd went crazy for us. It was such a fun environment to play in. 
  I wish every game was like that, but that's what makes Headmasters such a special and exciting game. I felt like I had endless amounts of energy and I believe that was the best my team has ever played. Berkeley couldn't score or stop us from scoring, they seemed defeated three minutes into the game.
   It was hard if I messed up because I could hear Berkeley screaming at me and cheering when I messed up, I'm not used to receiving that amount of discouragement during a game. Then I would glance at the scoreboard and see that we were up by 40 and glance at the Berkeley kids and point at the scoreboard. I didn't mind making mistakes because I knew that I would have an opportunity to make up for it and I found it easy to brush it off because of the energy brought by the student section.
   My team works really hard and to be able to showcase our hard work and talent at Headmasters made it all worth it. We had people lined up near our locker room after half time to give us high fives. It was an amazing feeling to have appreciation shown because we work very hard to improve as a team and to finally have everyone see what we can do really made our work feel worth it. We beat Berkeley by 42 points and it felt so good to be the only girls' team that won from Tampa Prep and not only win but ran Berkeley out of the gym.