A way to fill time: Top 5 Baking Recipes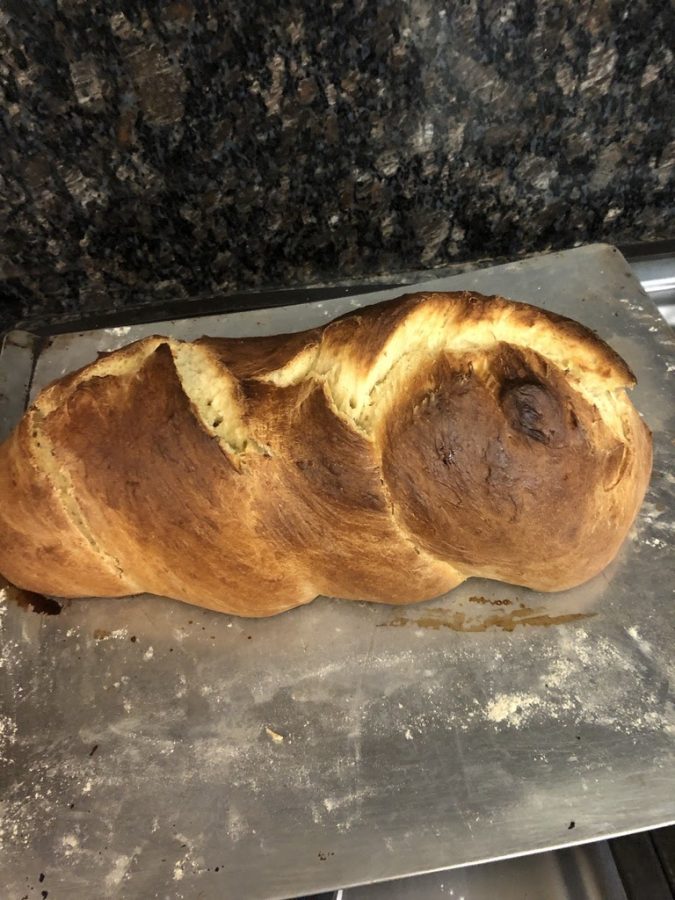 As of March 30, Tampa Prep is officially online, but what can students do to occupy themselves now that we have 40 minute class periods and no extra-curriculars? For me, a "Great British Baking Show" fanatic, baking fills the loads of spare time that I now have. Below are recipes and baking ideas that have been tried and tested by me that I think will help you fill the void in your time. 
1. Chocolate Chip Cookies
I absolutely adore chocolate chip cookies, and if you are addicted to chocolate like I am, you will absolutely love this recipe from my great – grandmother's, Joan Wood McVeigh, cookbook. 
Ingredients:
1 ¼  cups all purpose flour
½ cup packed light brown sugar
½ cup butter, softened
¼ cup white sugar
1 egg
1 teaspoon vanilla extract
½ teaspoon baking soda
½ teaspoon salt
1 6-ounce package semisweet-chocolate pieces (or as many as you want)
Instructions:
Preheat oven to 375ºF and grease cookie sheets
Mix all ingredients except chocolate
Add chocolate pieces once everything is mixed
Then, put rounded pieces of dough onto the cookie sheets and bake for 10-12 minutes, until lightly brown.
1. Buttermilk Biscuit
Another one of my family's classic recipes is that of a good-old southern buttermilk biscuit. This recipe can be credited to my wonderful grandmother, Georgan McVeigh Ropozo. These are super quick and easy to make, just be prepared to get some dough on your hands and counters. 
Ingredients:
2 cups all purpose flour
1 tablespoon baking powder
½ teaspoon salt
½ cup butter, shortening, or margarine (NOTE: if you use butter or margarine it needs to be cold)
¾  cup buttermilk
Instructions
In a large mixing bowl, sift together flour, baking powder, and salt
Cut in butter or shortening with fork or pastry blender until your mixture looks like coarse crumbs
Pour milk into flour mixture and stir with a fork, mix until the dough is soft and pulls away from the bowl
Turn the dough out onto a lightly floured surface (I use my kitchen counter)
Sprinkle with flour and work the dough until no longer sticky
Roll dough out with hands and work into a sheet about ½ inch thick
Cut out round biscuits with a cookie cutter or a glass with an opening of about 2 ½ inches
Put onto an ungreased cookie sheet and bake for 10 minutes
These biscuits pair wonderfully with melted butter, eggs, nutella, you name it. They are fluffy and buttery and all around delicious.
3. Kosher for Passover Cookies
   As an avid member of the Jewish community, I know how hard it is to find delicious and passover friendly desserts to eat. This recipe is a hack to passover cravings. While these cookies may have a hint of matzah, they are a tasty treat to get you through the holiday. This recipe was derived from my synagogue's (Congregation Kol Ami) sisterhood cookbook.
Ingredients
3 eggs
½ cup butter or margarine
1 cup sugar
1 cup cake meal
½ cup potato starch
¼ teaspoon salt
10 oz package of chocolate chips (or as many as you want)
Instructions
Preheat the oven to 350ºF and set up cookie sheets
Beat the eggs, butter, and sugar
Combine the dry ingredients and add to the egg mixture
Put rounded teaspoons of dough on the cookie sheet 2" apart from one another and squash them with a spoon.
   The cookies are a great alternative dessert and snack during passover and can tide over your sweet cravings during the holiday. 
4. Japanese Cheesecake
   The Japanese Cheesecake is notorious for its light and fluffy texture. I personally prefer this type of cheesecake over the traditional creamy cheesecake. This is a more technical bake for those of you who may want to try your hand at professional techniques. This recipe is adapted from Buzzfeed's Tasty Kitchen recipe.
Ingredients 
   7 tablespoons butter
   4 oz cream cheese
   ½ cup milk
   8 egg yolks
   ¼ cup flour
   ¼ cup cornstarch
   13 egg whites
   ⅔ cup granulated sugar
   Hot water
Instructions
Preheat oven to 320ºF

In a pot over medium heat, melt together the cream cheese, butter, and milk until smooth. Once smooth, set to the side and let cool.

In a mixing bowl, whisk the egg yolks until smooth, then slowly drizzle the cream cheese mixture in, making sure to stir after each addition.

Sift in the flour and cornstarch. Make sure that there are no clumps

In a large bowl, beat the egg whites until soft peaks form. Then gradually add the sugar until stiff peaks form. 

Fold ¼ of the egg whites into the egg yolk mixture until fully combined. Keep adding egg whites a little at a time until all of the egg whites are combined with the yolk mixture.

Grease a circular pan and line with parchment paper

Pour the batter into the pan and tap on a counter to release any bubbles

Place the pan into a larger baking dish that is lined with two paper towels (to insure that heat is evenly distributed)

Fill the larger pan about 1 inch high with hot water

Bake for 25 minutes, then reduce the heat to 285ºF and bake for another 55 minutes. Take it out when the cake has fully risen or doubled its original height

Remove from the oven and carefully take out of the baking tin and let cool.
   This is such a cool and delicious recipe that will please a cheesecake loving family. 
5. Challah Bread
   Challah is a staple in every Jewish home and should be in every Jewish kid's baking repertoire. This Challah is delicious and feeds the entire family (see picture above). This recipe is adapted from my synagogue's (Congregation Kol Ami) sisterhood cookbook.
Ingredients
2 pkg. Dry yeast
2 cups warm water
7 tbsp sugar
4 ½ tsp salt
¼ cup vegetable oil
3 eggs, slightly beaten (room temp)
6 to 7 cups flour
1 egg mixed with water and honey for glaze
Instructions
Put the yeast into the hot water and let sit

Put all of the ingredients together except for the flour and mix well

Add the flour and make into a workable dough

Knead until smooth and elastic

Put dough into an oiled bowl and cover

Let rise for about 3 hours (but you can leave it to rise for longer if you want)

Punch down and divide into 3 parts and make them into long strips

Braid the strips and let rise for 30 minutes

During this second rising time, preheat the oven to 350ºF 

Once the loaf has risen, glaze it with the egg, water, and honey mixture

Bake for 30-40 minutes 
   This Challah recipe is delicious and can be made into french toast, toast, a sandwich, and many more things! I hope you love this recipe as much as my family and I do!