Student Perspective on the National Association of Independent Schools' Student Diversity Conference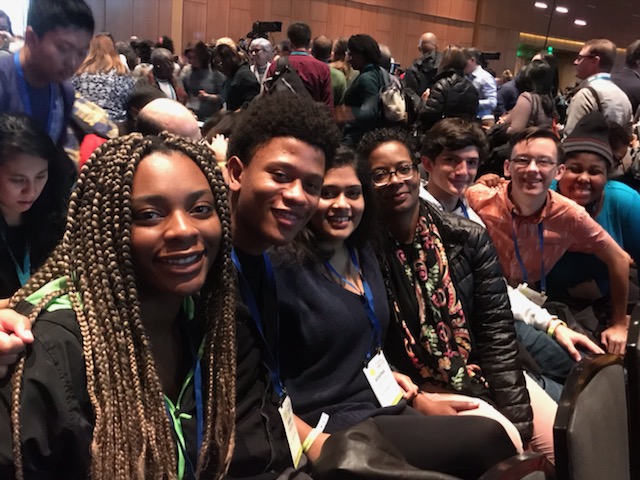 Early Thursday morning, Nov 28, I, along with six other Tampa Prep students, visited the Music City Convention Center for the 25th annual Student Diversity Leadership Conference (SDLC) held in Nashville, Tennessee. I recall how the arena was buzzing with energy as the crowd of 6,400 educators and students enjoyed the introductory performance by the nationally recognized Tennessee State University marching band (a historically black university).
This lively energy was maintained with the first guest speaker of the event, award-winning journalist Lisa Ling, who divulged into an array of different topics (primarily from her work on the CNN docu-series This is Life with Lisa Ling).  Ling discussed the importance of representation in media and how the rising incarcerated population impacts the American family. One of the more poignant messages I heard from Ling was about her early correspondence work in Afghanistan, Iran, and dozens of countries around the world. Her description of the rising counter-culture within the youth population as well as the influence she said they got from American activism was truly noteworthy when describing the influence of local social change on a international level.
The following series of icebreakers and opening statements from the students was a short precursor to the intimate conversations we would have over the next 4 days. Following the opening ceremony, educators and students were separated into "family groups". These family groups were made up of 50 randomly selected students who led nuanced discussions about their experiences based on several cultural identifiers (religion, race, gender, family structure, ability, and sexual orientation). These conversations were moderated by two trained adult, peer facilitators that structured the conversations around understanding and action. I thoroughly connected with my family group and grew from these encounters. We all had the commonality of being from private schools but the thing that enhanced our conversations was our differences.
Not only did I connect with my family group when discussing prejudice and isolation within the independent school community, I also learned from the experiences of others, and better understood how to advocate for people who didn't carry the same identity as myself. I better understand the struggles of being a 2nd generation student and the privileges I have as an American citizen at the expense of these students and First Nations people. I also better recognize the intersectionality between religion and culture. Overall these encounters allowed me to come to appreciate people's difference and learn how to create spaces where those differences are celebrated.
We continued these discussions in our family groups for the next three days with the occasional guest speaker. The conference's key speaker was peace advocate, and former violence extremist, Christian Picciolini. He carried out a thoughtful interview with Head Chair of the conference, Dr. Rodney Glasgow, as well as the students in the audience. Hearing him talk about how he was recruited into the skinheads as a teenager, and his subsequent descent into a life of violent extremism called me to question my own notions of acceptance and tolerance. Picciolini had physically assaulted several people because of their race. The music he made over two decades ago was retweeted by the Charleston church shooter, so it was hard for me to fully receive the message he was delivering even with his activism and founding of a global extremist prevention platform. I did however learn how hate can be spread through isolation and better understand how something so extreme is not innate but fostered off of fear.
The following activity blended perfectly with the family groups as students participated in peer-led affinity group discussions. These groups much like the cultural identifiers were distinguished by  racial/ethnic identity as well as sexualitiy, ability, and international origin. Students had the option of joining the affinity group they identified with the most. I joined the Black/ African-American affinity group, which affirmed my daily experience. Being able to interact with a ballroom full of students sharing very similar backgrounds to me created an openness that I've never truly felt within my school environment. The way we celebrated our experiences through music, dance, and spoken-word nurtured the pride I have in my background.
The closing remarks by award-winning journalist and  professor Dr. Marc Lamont Hill, left me inspired to impart change within my community.  He asserted that we need to spread the knowledge and experiences we garnered from the conference. I left feeling like a new person, and motivated to spread the ideas of equity and tolerance heard at the conference. Every year SDLC attendees have gone to the school administration to foster the ideas of advocacy within the prep community. These meetings have spurred the creation of school organizations like Culture Shock, Women Of Kolor Empowered (W.O.K.E.), and Affinity groups. To learn more about the N.A.I.S. Student Diversity Leadership Conference and how Tampa Prep is currently engaging its students and faculty in the conversation, please contact Ms. Enaye Englenton  ([email protected]) or Mr. Donald Morrison ([email protected])