Dog Mentality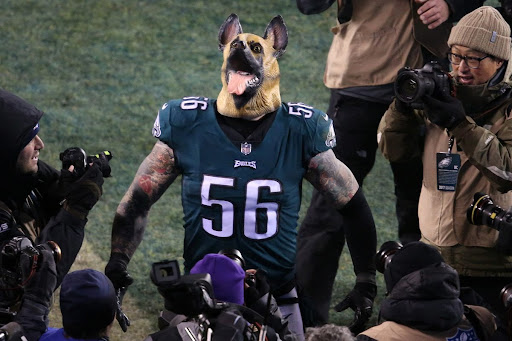 "What the Eagles truly need for a more successful future are new coaches with new ideas outside of Philly's current coaching staff. A rebuild," I said when analyzing owner Jeffrey Lurie's firing of head coach Doug Pederson after the Eagles' dreadful 4-11-1 season last year.
   "It's a transition point and we've got to get younger and we have to have a lot more volume of draft picks and we have to accumulate as much talent as we possibly can that is going to work in the long run with a focus on the mid-term and the long term and not on how to maximize 2021," Lurie said.
   He kept his word.
   The Eagles' new coaching staff — offensive coordinator Shane Steichen (36), defensive coordinator Jonathan Gannon (38) and special teams coordinator Michael Clay (30) — is the youngest in the NFL.
   The problem with Pederson was that the rest of the league had him figured out by his fifth season of coaching in Philadelphia. His play calls had become too predictable. That fearless coach we knew in 2017 who let his backup quarterback run the Philly Special on fourth down in a Super Bowl was the same coach in 2020 who decided to punt in overtime against the Bengals.
   Point is, the Eagles had become vanilla… boring, nothing more than mediocre. Washed out.
   With a young, new coaching staff, however, the hope was that the Eagles would have fresh ideas coming into the 2021 season.
   And boy has it been refreshing.
   After dealing with the constant battle between Pederson and QB Carson Wentz last year, it has already looked promising seeing how players this year — especially veterans — have really seemed to get behind head coach Nick Sirianni and his staff over training camp and preseason.
   "Nick really did a great job of coming in, setting the tone. He's done a great job every single day. The players have embraced him. I think we got a lot of really good work in," 11-year veteran center Jason Kelce said on SportsRadio 94 WIP.
  "When the guy's up in front of the team and he's talking — whether it's from the offensive perspective or the team's perspective — I think Nick does a phenomenal job in the team meetings from a structural standpoint, from an accountability standpoint, from a motivational standpoint. All those things, he's doing really, really well at right now. Our team's at a really good place."
   But, this would not be a true Eagles article written by yours truly without there being some ounce of concern.
   The Eagles' defense was off to a slow start against the Atlanta Falcons on Sunday, allowing the Falcons to move 72 yards down the field with ease. This drew up an early concern considering how dominant Philly's defense typically is, but by the end of the first quarter, they had themselves figured out and managed to keep Atlanta from scoring another point for the rest of the game.
   Now this slow defensive start was most likely due in part to the fact that none of the Eagles' starters played in the preseason. On the offensive side of the ball, not getting those game reps in clearly affected the o-line as well… seven of the 14 penalties on the Eagles were charged to the offensive line. With a line of veterans — LT Jordan Mailata, LG Isaac Seumalo, C Jason Kelce, RG Brandon Brooks and RT Lane Johnson — they should not be racking up careless penalties like false starts and holdings.
   On a positive note, I was seriously impressed with Sirianni's dynamic offensive play calling. I'll be honest, I was not expecting much coming into the first game of the regular season, and with good reason. The Eagles went 0-2-1 in the preseason, not playing any starters or giving fans any preview of what the new and improved 2021 Philadelphia Eagles could possibly look like. To say it bluntly, the Eagles second and third string sucked, and I was concerned for the team. I had no idea what to expect, but I was pleasantly surprised. Sirianni's new and creative offense was a big step up from Pederson's old and predictable play calls.
   Rookie QB Jalen Hurts looked fantastic as well. With a passer rating of 126.4, Hurts finished 27 of 35 for 264 yards and 62 yards rushing with three touchdowns and no interceptions.
   The Eagles beat the Falcons 32-6, now placing Philadelphia in first place in the NFC East.
   "It was a great feeling yesterday to sit in the locker room [and] celebrate with the guys. That was a great feeling. If I dwell on that feeling for too long, though, then this week's not going to go the way it's supposed to go. So I'm over it, it's out, I'm onto the next one. It's been no different of a morning and that's how my Monday mornings are going to be — win or lose — it's going to be onto the next game," Sirianni said on SportsRadio 94 WIP.
   My hot take: CBS Sports is wrong in their prediction for the Eagles to go 5-12 this season. After the big win against Atlanta, I'm going into the rest of this year with a lot more optimism than usual about the Eagles, and I think everyone's going to be surprised when the underdogs come out and win more games than expected. By no means do I think we're going to the Super Bowl, and we may not even win our division, but what I know is that we are not a 5-12 team.