1 Step Forward, 2 Unnecessary Steps Back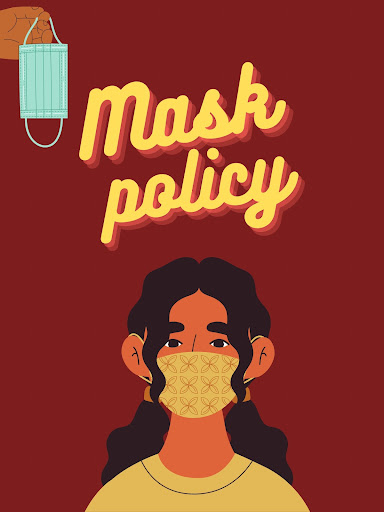 With Tampa Prep's mask procedures being dynamically dependent on a multitude of factors, students have been experiencing progression and regression simultaneously.
While many students understand the importance of wearing masks such as protecting our peers and ourselves from the spread of Covid, masks have not been one of the most enjoyable parts of the year. In the beginning of the year, many students were anticipating normalcy by the second semester with the introduction of optional mask procedures. Unfortunately, the introduction of Covid's vehement variants have disrupted those hopes tremendously. But was Prep's premature reduction of masks also to partly blame for disappointment among students?
At the beginning of the year, in light of the Delta Variant, Tampa Prep had a mandatory mask policy. While many were annoyed, there was a mutual understanding that there was too much risk of infection for us to go back to school without masks. From August to mid December, Tampa Prep continued to stay true to the Tampa General Hospital guidelines and keep masks. 
In my opinion, it was the right thing to do in order to protect those at school and other members of the Tampa community that come in contact with us. But like the ongoing theme of the pandemic, restlessness morphed into impulsiveness. 
Even at Delta's height and with the rise of Omicron, Tampa Prep, with two weeks left before break, decided to lift the mandate and allow vaccinated students and faculty to not wear masks. Towards the end of the semester, it was quite popular to get rid of masks. Students were annoyed at their inconvenience and longed for an ordinary start to the beginning of the second semester. In response to this outcry, it felt like the administration caved, and announced their 4 stage process to lift the mask mandate. Unfortunately, by going "back to normal" too hastily, this dream for second semester was crushed. 
On November 30, after much consideration, administration announced to students that they would begin Stage 3: a mask optional policy for vaccinated students starting December 1. From December 1-14, only vaccinated students and faculty would be able to not wear a mask indoors. Unvaccinated students had to wait to not wear masks until after two weeks of little to no transmission. While many were celebrating how close the Prep community was to getting to being back to normal, concerns were also arising.
One of the main concerns of going back were that covid cases were on the rise at the time of going into Stage 3. According to the Miami Herald calculations of CDC data, "Florida on Thursday reported 77,848 additional COVID-19 cases and 90 more deaths to the Centers for Disease Control and Prevention" and "All but 59 of the newly reported cases — about 99.9% — occurred since Dec. 2." Amidst of our reduction of masks, the rise of Covid cases continued to contradict our decisions.
 Although I understand Tampa Prep also did research based on CDC guidelines, supporting their decision based on vaccination rates (which continue to be very high at Prep), before initiating their mask-optional policies, I think the troubling atmosphere of rising covid cases should've trumped our vaccination rates evidence. Additionally, I think we failed to take into account the timing of these new policies.
As I stated before, the mask-optional policy was initiated two weeks before winter break, which couldn't have been worse timing. Many students travel during the holidays, causing them to be exposed to an abundance of people and germs. It didn't make sense to lift the mask policy, knowing that some students would be exposed during break and then have them return to school. It was almost a certainty we would have to come back after break with masks because of all the risk of infection stemming from students on vacation. Not only this, but even staying in Tampa, many students did not wear masks while hanging out with friends at restaurants or indoor, dense areas. Therefore, transmission also increased in this case, causing students to possibly bring back Covid to school. This is also where our vaccination rate evidence bit us in the butt as many vaccinated people who carry Covid are asymptomatic. Thus, some students could have brought Covid back to school unknowingly. 
Ultimately, there were only two weeks before break, so there wasn't a reason why we shouldn't have waited and monitored the progression of Covid during the holidays before instating the mask-optional policy. By launching the policy right before a super-spreader, we gave students a glimpse of normalcy, and then swiped it as soon as we came back next semester. We acted too fast and did not foreshadow the holidays causing mass outbreaks, creating false hope.
Whether it was because the administration trusted high school students to not leave the house during break, the Prep community not being able to wait a month, or that we relied too heavily on vaccination protection, the disappointment among students added to the sorrows of the effects of the pandemic on school life. We acted too prematurely in response to agitation rather than thinking the implementation of a mask-optional policy through. The timing and statistics were not supportive of our decisions. If we really needed to go mask-optional, we should have waited until after break to observe the holiday progression of Covid. Although I often get annoyed with masks, it's important we uphold our mask policy until it is safe to get rid of them rather than perpetuate the fantasy of normality for the second semester. 
Source:
https://www.miamiherald.com/news/coronavirus/article256942417.html#storylink=cpy