A Settlement for a Kneel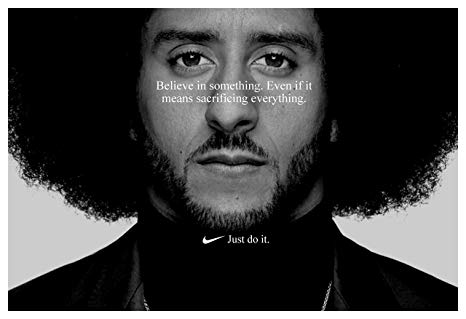 Hang on for a minute...we're trying to find some more stories you might like.
   Colin Kaepernick is a former NFL quarterback notorious for taking a knee during the national anthem. The protest began during the 2016 NFL season while Kaepernick was a part of the San Francisco 49ers, which caused a lot of controversy and ignited others to join. According to Kaepernick's interview with ESPN.com, his intentions of this action were to not support the racial inequality acts that were going on. Stated on ESPN.com many believed that Kaepernick's actions were disrespecting the military, but his response to them was: "I have great respect for the men and women who have fought for this country…People are dying in vain because this country isn't holding their end of the bargain, as far as giving freedom and justice…I have seen videos, I've seen circumstances where men and women that have been in the military come back and been treated unjustly by the country they have fought for, and have been murdered by the country they fought for, on our land, That's not right."
         After the 2016 NFL season, Colin Kaepernick wasn't resigned by the 49ers because his contract expired, however Kaepernick was expected to be a hot commodity for many NFL teams to sign him. Unfortunately, many reports came out that owners tried to keep him out of the league by not signing him. Teams kept on signing quarterbacks who were not nearly as good as Kaepernick for instance Nathan Peterman who has more interceptions thrown than one can count. "16 months ago Kaepernick and Eric Reid, teammate who protested with Kaepernick who has been picked up by a NFL team,  filed a complaint alleging that NFL team owners worked together to keep him off the field" (Vox.com). On February 15, 2019 Kaepernick and Reid's case reached a settlement with the NFL in which was was rumored that the NFL paid between 60-80 million dollars. According to 49ers.pressdemocrat.com the statement from the NFL Player Association: "We continuously supported Colin and Eric from the start of their protests, participated with their lawyers throughout their legal proceedings and were prepared to participate in the upcoming trial in pursuit of both truth and justice for what we believe the NFL and its clubs did to them. We are glad that Eric has earned a job and a new contract, and we continue to hope that Colin gets his opportunity as well". This is a huge step for Kaepernick, knowing that the league wouldn't have gave him anything if there was nothing wrong. Kaepernick is currently 31 years old and has not played in the NFL for two season and may never play again. Even when off the field, Kaepernick makes a huge statement.
          Besides the NFL, Kaepernick has stock has been rising. Signing a deal with Nike which produced a commercial with the quote: "Believe in something. Even if it means sacrificing everything." Reports have came out during Kaepernick's signing with Nike that many other large companies like Adidas wanted to sign Kaepernick. Also, the new football league the Alliance of American Football wanted to sign Kaepernick to a deal, but Kaepernick was asking for 20 million a season which twenty times the average salary.
          The settlement with the NFL, was a huge step for Kaepernick to get back to the field.