A Lin-Manuel Miranda Tribute by Tampa Prep Chorus.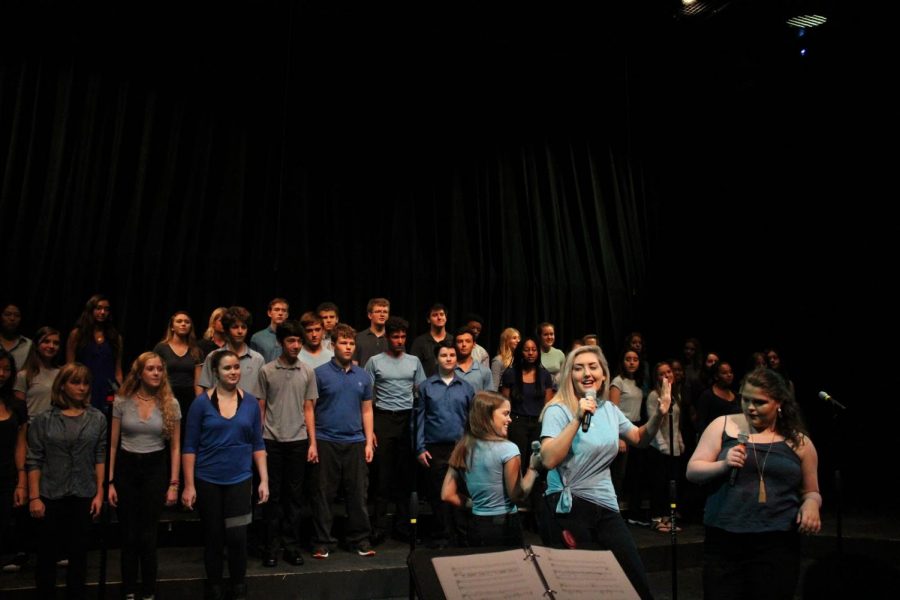 Last Friday afternoon, the Tampa Prep chorus sang a medley of songs from both Academy Award winning Moana and Tony Award winning Hamilton. The performance included a mixture of middle school chorus, chamber chorus and concert chorus and expertly mixed the different voices into a beautiful wave of sound.
   The performance began with the high school chorus singing the opening number to Hamilton. The performance included a multitude of solos, but one of the most impactful solo, or trio, was that of Alex Paglieri ('20),  Lindsey Davis ('22) and Emma Stephens ('20) as the Schuyler sisters. They performed the song from the smash hit musical with ease, harmonizing as if they were the professional actresses from the musical. 
   A stand-out moment from the performance was the performance of the song "Burn" from Hamilton by the high school women. This piece was choreographed by a Tampa Prep alumnus, Jonah Watson, a member of the class of 2015. 
   "He found the piece and taught it to the girls who did the number, and I just supported him and whatever he needed to help them learn the music" said Tampa Prep Chorus Director, Andrew Hoy. 
   The performance was awe inspiring as the women showed how they can portray emotions through their voices. The free reign given by Hoy to the theatre intern allowed the audience to see a showcase of the abilities of the junior and senior girls of chorus. 
   Mid-way into the Hamilton score, the middle school chorus joined the high school, but their true prowess was not showcased until the performance moved onto the next set with music from the Disney movie, Moana. 
   The songs performed from Moana were upbeat and energetic, which made the audience want to dance and sing. Audience participation was also encouraged by the chorus handing out plastic leis to the audience. 
  While the voices of the chorus were outstanding, the true star of the show was Hoy. His enthusiasm and excitement for the first performance of the year truly showed in his conducting and his presentation of each segment of the show. 
   "I think it gets people excited about making music, and that's the main goal."   Hoy said when asked about the tone he wanted the concert to set.
   This showing by the Tampa Prep Chorus showcased the monumental prowess of the Tampa Prep students.