Tyra Banks? Uh, No Thanks
   Despite not being a more recent viewer, I was shocked when I heard that Erin Andrews and Tom Bergeron would not be returning as hosts of the popular dancing competition show, "Dancing with the Stars." I was even more shocked when I heard that they were being replaced by former "America's Next Top Model" host, Tyra Banks. However, I was not at all shocked when I tuned in to "DWTS" and saw Banks was doing a terrible job.
   While I have not seen ANTM, I have seen Banks as the host of "America's Got Talent" during her short stint there. Let's just say this was not a good first impression of her. I remember her seeming very out of place and unentertaining.            
      When I tuned in to watch the first episode of "DWTS" season 29, I was hit with a sense of déjà vu as Banks was still just as bad, maybe even worse, than I remember. 
  The first thing that I disliked about Banks' hosting was her introduction. They opened up the big screens in the back and had her walk out in a big, poofy outfit. While it is understandable they would want to make a big deal out of her since this is her first episode, they made a bigger deal out of her than the actual stars of the show. You can imagine my frustration when this continued in the next two episodes.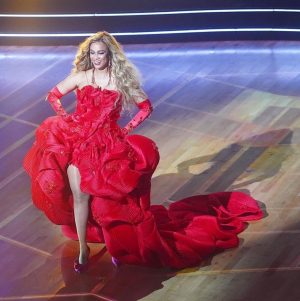 What also annoyed me was just her attitude. Banks has always come across to me as a person who thinks that she is more entertaining than she actually is, which I suppose isn't too hard because she isn't entertaining at all. She constantly tells jokes and one-liners that fall flat, makes uninformed comments about the stars dancing, and goes off on tangents about herself that go on way too long. What is even more frustrating about this is that she cuts into the time that the judges have to give critiques to the stars' dancing.
  I thought that former hosts, Bergeron and Andrews, could best be described as charismatic and entertaining, yet not too in your face. They weren't stealing the show, they weren't taking away time from the judges, and they weren't trying to be the stars. That is exactly the job of a host, to promote everyone else. They are meant to blend into the background. Trust me, neither Andrews nor Bergeron would wear the outfits or make the entrances that Banks make. Bergeron would probably kill it though.
  Banks lacks this awareness that makes a good host, leading to her being ultimately a failure on "DWTS." The second she was announced, she and the marketing team made "DWTS" into the "Tyra Banks Show." It's disappointing to see that all of the judges, stars, and pro-dancers, who all have 100 times the personality that Banks' does, have fallen to the wayside. 
    Banks needs to be more open to criticism and make a lot of adjustments if she wants to actually be a good host. However, I'm aware that she is way too far into her hosting career so it is very unlikely that she will change. Therefore, that leaves me with one question: Can we vote Tyra Banks off of "Dancing with the Stars" this week?