Third MCU Spider-Man Movie Finally has a Title and Release Date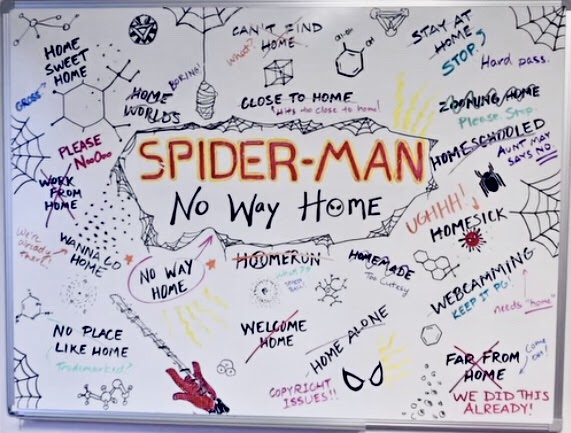 While there are still many mysteries left surrounding the third installment of the Marvel Cinematic Universe's Spider-Man movies starring Tom Holland as the titular character, its title, and release date are no longer one of them. On Feb. 26, on Holland and the movie's official social media account, a teaser video was posted that revealed the title of the movie to be "Spider-Man: No Way Home" and that the movie would be released exclusively in theaters on Dec. 17, 2021.
   The announcement was teased by Holland and his co-stars, Zendaya and Jacob Batalon, through their Instagram accounts on Feb. 25. Each posted a different still from the movie, followed by their supposed "exclusive title reveal." However; all three of the titles they posted were different.
(Taken from the actors' various Instagram accounts and compiled by me)
   This teaser sparked a lot of discussion on Twitter of people speculating what the actual title of the movie would be and when it would be announced, putting Spider-Man-related topics in the top 10 trending of the day. The following day, the actual title was revealed in a video where Holland, Zendaya, and Batalon joked that Jon Watts had given them all fake titles, referencing both how Marvel usually gives their cast fake scripts and Holland's habit of spoiling aspects of the movies he is in.
   While this drawn-out way of announcing the title could just be a way of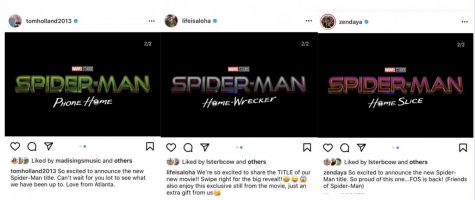 sparking buzz around the movie, many Marvel Cinematic Universe fans speculate that it could be hinting at the multiverse story many people believe "Spider-Man: No Way Home" will revolve around. 
    Why this is really getting fans excited is because of the possibility of the return of Tobey Maguire and Andrew Garfield to the role of Peter Parker in alternate-universe versions of the character, along with other side characters from the previous movies. While this is all speculation, there have been countless rumors about the actors signing their contracts and appearing on set.
    Whatever the movie turns out to be, fans are looking forward to the third MCU Spider-Man movie and to see many of their favorite characters back in action. "Spider-Man: No Way Home" swings into theaters this Christmas.