PowerSchool vs. BlackBaud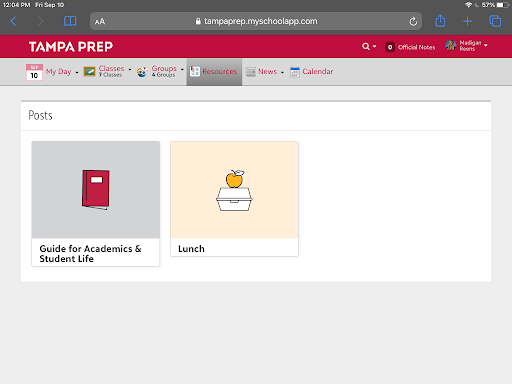 Tampa Prep decided to make a massive change in the organizational structure of their administration this fall: switching all online student and faculty accounts from PowerSchool and MyBackpack to a singular system – Blackbaud. This was a major change for the school and came with a fast learning curve for both faculty and students. Although we are only a few weeks into the new school year, the question on everyone's mind seems to be the same: is this new system really any better?
   In comparing the two systems there is only one adequate way to measure their success and assistance to the Tampa Prep community: the pros and cons of each network. 
  Starting with the pros: On one end, we have PowerSchool/MyBackpack which is the previous system that the school used to help students. PowerSchool was great at showing and notifying students of their homework assignments, and was an easy system for the teachers to enter things into. It also sent students an email to confirm that their assignments were submitted, alieving students of the stress of not knowing if their teacher had received their assignment. Its partner system, MyBackpack, allowed students to view grades and teacher comments with little to no errors ever. Altogether, the system worked cohesively and the pros made it a fairly good system for the school.
   Mr. West, a teacher in his 3rd year at Tampa Prep said "it was relatively easy for students to access information pretty quick", when compared to Blackbaud.
   The pros of Blackbaud differ greatly from the pros of PowerSchool and MyBackpack. It is helpful that everything can be viewed in one place – grades and assignments. Plus, it is nice to see all of the assignments on their respective due dates in the assignment center.
   When it comes to the pros of Blackbaud, Mr West said "it is nice to have one combined system", this makes it easier for students and teachers to view everything in the same place.
   Now, for the cons of PowerSchool and MyBackpack. First, it is a minor inconvenience that the systems are on two separate platforms – adding in a few extra  seconds for logging in to view students' grades. However, this could be viewed as a pro: because of the separate platforms students checked their grades less and therefore were less stressed out. While having the assignments and grades on the same platform may be easy access for all the information you need as a student, the separate platforms actually helped reduce students checking their grades on a daily basis. So that con may be counted as a pro in some students/faculty/parent's minds. The other major con of these platforms is that a small fraction of the time when you were submitting assignments on these platforms, the system would malfunction. This led to major frustration for all parties involved.
   Now for the cons of Blackbaud – there are a lot. First, what are we even supposed to call it – "Blackbaud", "MyTampaPrep", or "the new website"? The name confusion is a major problem between students and teachers. Next, although the "Assignment Center" was listed as a pro earlier on, it also ends up in the con section for being ridiculously hard to find, especially if no one told you about it. Which leads into the next con: Blackbaud is extremely difficult to navigate. It might have helped for the school to give an introductory course on the inner workings of the new Blackbaud system, however they failed to do this and therefore both students and teachers went into using the system completely blindly. Another con is that the distinction between assignments, topics, and messages is difficult to decipher. Students are missing assignments because they had no idea where to find their information and descriptions. Plus, in the first few weeks of school not having the block schedule, like MyBackpack used to present students with, made finding classes extremely difficult – especially for new students. In addition, no one has the rotation of the days memorized so it's a guessing game which class we will be missing each day. This could have been solved by students finding the posting of the days, found under their individual class pages – however no one knows this information. Finally, Blackbaud also encompasses the flaws of our previous systems PowerSchool/MyBackpack with students already reporting having trouble submitting assignments. Plus, the confusing way in which grades are displayed and where to find them is constantly bewildering students. 
  Mr. West gave his overall opinion, and said "with any new software there is definitely a learning curve … after a while you get used to them". 
    The Tampa Prep community can only hope that although Blackbaud x Tampa Prep got off to a rocky start, it only goes up from here.
   Altogether, this new system from the administration, Blackbaud, has a plethora of more flaws than our previous system PowerSchool/MyBackpack and the implementation of said system did nothing to solve the problems that were occurring in school. My recommendation is to next time actually teach students and faculty how to use the system before pushing them into it blindly, or better yet choose a new system once more.