Is Christopher Columbus More Important Than our Veterans?
Many Tampa Prep students feel it was unfair that surrounding schools gave their students a day off to celebrate and honor veterans, and yet they found themselves at school during the day of observance.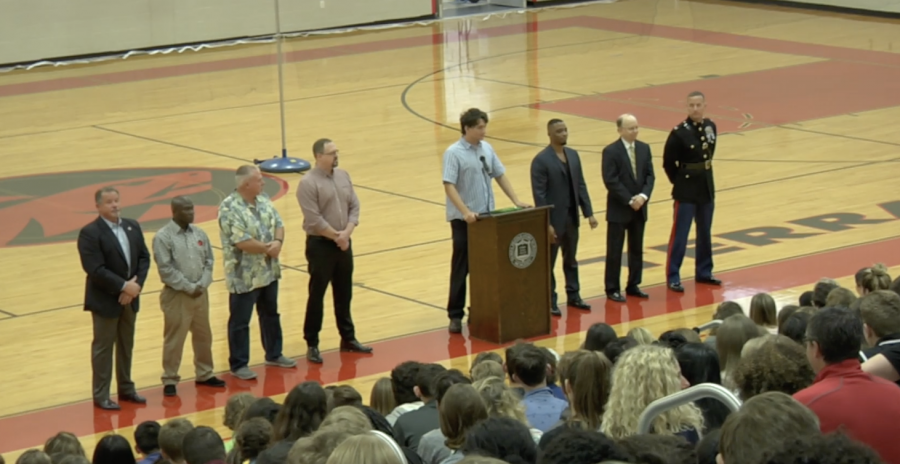 On October 14, Tampa Preparatory School found itself observing Columbus Day with a day of no classes however Tampa Prep did not give students a day off for Veterans Day.
  Schools across the country closed their doors November 12 to honor those who have died in combat and those who continue to fight overseas. However, Tampa Prep students were still required to attend classes and take tests.
  It's not that we as a school don't celebrate veterans because we did hold an assembly dedicated to them. Tampa Prep Administration does view Veterans Day as an event important enough to bring in three separate keynote speakers.
  When asked why Tampa Prep observes Columbus Day with a day off, Head of Upper School Carl Carlson had a simple answer.
  "Because it is in the middle of our first semester, it fits with our academic schedule." Carlson said.
  If Veterans Day happened to fall near the middle of our first semester, just as Columbus Day does, we would have Veterans Day off instead.
  Tampa Prep gives students a total of 10 days off over the academic school year, not including half days and long breaks.
  Carlson mentioned if neither dates fell between the middle of the first semester, administration would simply gives students a fall weekend off from school.
  Regarding missing school for Veterans Day, Carlson shared his thoughts on how he felt it was not uncommon for students to be in school.
  "In New England, where I came from, I don't remember Veterans Day being a day off from school so I don't know how widespread that is." he said.
  Regarding his personal opinion, Carlson said, "I would pick Veterans Day over Columbus Day based on what it is that is being celebrated. Columbus day seems like an outdated concept but we just like having the day off."
  When Upper School students were polled on which day they feel should be celebrated with a day off, their responses were definite. 77.1% of faculty and students feel Veterans Day should be observed with a day of no classes.
  In response to this question, people had strong opinions surrounding this topic.
  During class with my Spanish teacher, Guillermo Ruiz de Somocurcio, Ruiz asked if there could be an option for both choices because it was hard for him to make a final decision.
  Several people shared his difficulty with choosing a holiday but others were able to make a decision very fast.
  Upper School Math teacher Donna Fowler, contributed her thoughts on the importance of observing Columbus Day. Fowler said, "As a teacher, we appreciate having Columbus Day off as it allows that much more time to actually write hopefully thoughtful comments and college recs."
  However, Fowler did not discount the importance of Veterans Day. She said, "To be honest, Veterans Day seems more important, but is already near a long Thanksgiving Break."
  Instead of focusing on using Columbus Day as a day for working, Art teacher Elle Ashworth disagrees.
  "Veterans Day is often not celebrated, which hurts my heart." Ashworth said. The reason for her feeling so strongly is her father was a veteran himself.
  Carlson even contributed another holiday to consider observing with a day off.
  "Someone proposed just doing away with Columbus Day because of a lot of legitimate cultural concerns and replacing it with a national election day." Carlson said.
  Democratic Senator, Bernie Sanders, proposed a bill to make this thought a reality. Sanders wants to designate a national "Democracy Day" which would allow all people to be able to vote without worrying about missing work or dealing with long lines.  
  When asked about the assembly dedicated to our veterans, Carlson made an important point.
  Before coming to Tampa Prep, Carlson had worked at a boarding school. Instead of giving a students a day off for national holidays, students and teachers would celebrate together.
  "For Martin Luther King Day we didn't have classes for the day and we sort of took that day and created a whole day program. Let's celebrate this day together we thought." Carlson said.
  No matter which holiday you feel should be celebrated with a day off from school, it is important to remember each holiday has a different meaning and purpose to everyone.