A Christmas Prince 4: One Thing on Your Holiday Wishlist You Won't Be Getting
   On Oct. 7, Netflix released its "Here for the Holidays" schedule of Christmas movies. People were quick to notice the lack of a fourth "A Christmas Prince" movie on the list. This makes it the first time in four years Netflix will not be releasing another installment in the popular franchise.
  The "A Christmas Prince" franchise follows American Journalist Amber, played by "iZombie" and "Power Rangers: RPM" star Rose McIver, as she travels to the European kingdom of Aldovia and falls in love with the crowned prince, Richard. Over the course of the three movies, Amber uncovered multiple government conspiracies, defeated a curse, and learned to always be true to herself, no matter what royal traditions say.
   When "A Christmas Prince" was first released, it quickly blew up in popularity as many people deemed it Netflix's attempt at a Hallmark Christmas movie. It not only inspired two sequels, but two other movie franchises that take place in the same universe, which has been dubbed "Netflix's Holiday Movie Universe."
   While there is no "A Christmas Prince" movie this year, fans will hopefully be satisfied with the long awaited sequel to the 2018 movie "The Princess Switch" starring Vanessa Hudgens, "The Princess Switch: Switched Again."
   "Vanessa Hudgens, Vanessa Hudgens, and Vanessa Hudgens star in The Princess Switch: Switched Again! As Princess Stacy tries to help Duchess Maragaret get through a rough patch with Kevin, Maragaret's outrageous cousin Fiona – a third look alike!- arrives in town," tweeted one of the official Netflix accounts, Netflix Queue, about the movie which arrives Nov. 19.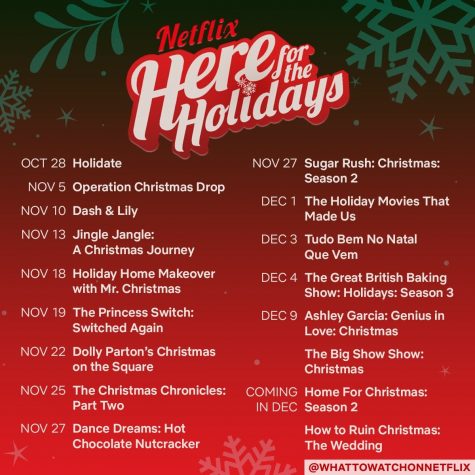 (This and the picture of the schedule was taken from the Netflix Queue/@Netflixqueue Twitter page https://mobile.twitter.com/netflixqueue/status/1313864769581969409/photo/1)