Zack Snyder's Justice League gets HBOMax Release Date
   The highly anticipated "Zack Snyder's Justice League," more commonly referred to as "The Snyder Cut" for short, gains a Mar. 18 2021 release date to stream exclusively on HBOMax. The alternate cut to 2017's "Justice League" was announced on May 20 2020, after an online campaign that had lasted since the original's release and was one of the main advertisement points for the launch of HBOMax on May 27 of the same year. 
   The original "Justice League" movie began production under the direction of Zack Snyder, who had also directed two other installments in the DC extended universe, "Man of Steel" and "Batman v. Superman: Dawn of Justice." However; Zack Snyder left the movie after a family tragedy.
   "I've decided to take a step back from the movie to be with my family, to be with my kids, who really need me," Snyder said in a statement in 2017.
   The film was taken over by "Avenger's" director, Joss Whedon. When the film was released, it was met with abysmal reviews from critics and fans alike. DC fans blamed the mediocrity of the movie on Whedon, believing the tonal shift from other DCEU movies and stilted comedy to be the result of his directing. They also believed that there was an alternate cut of the movie that followed Snyder's vision that the studio had kept locked away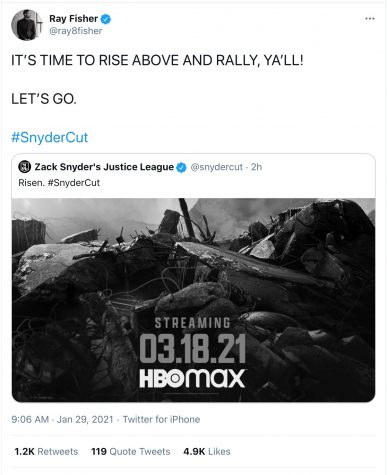 and demanded that it be released to the public. In a fan Q&A following a screening of "Man of Steel," Snyder announced that it would be finally coming out.
   "We've got a little work to do, but we are doing it," said Snyder.
   The new cut of the movie will involve previously unseen footage shot in the original production of the movie, with additional newly shot scenes to fully capture Snyder's idea for the movie. Fans, critics, and the film's cast and crew are all very excited to see how the "Snyder Cut" will expand on the story of the original movie and the DCEU as a whole.
   "It's time to rise above and rally ya'll!" Cyborg actor, Ray Fisher said in a Tweet, referring to the announcement of the release date.