Lara Jean and Peter Face Their Next Chapter in "Always and Forever" Final Installment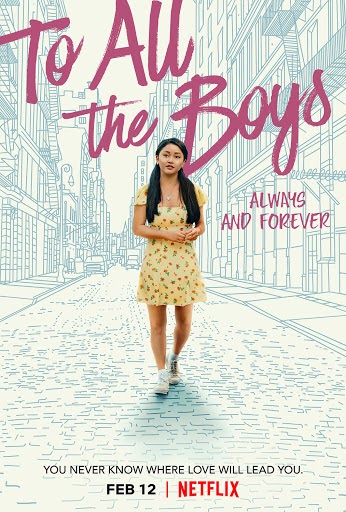 "To All the Boys: Always and Forever," the third movie in the widely popular Netflix series, was released just two weeks ago on February 12. Like the two before it, "Always and Forever" is a romantic comedy that follows the relationship between its two protagonists, Peter Kavinsky and Lara Jean Covey. If you haven't seen the movie, there are spoilers ahead for major plot points.
   After the disappointing second installment of the "To All the Boys I've Loved Before" series last year, I was a little nervous as to how the third one would turn out. Fear not, the spark is back between Lara Jean Covey and Peter Kavinsky as they navigate their senior year and college decisions together.
   Like many high school couples, the two plan to go to Stanford and stay together throughout college. However, the college admissions office has other plans. Conflict ensues when Peter is accepted and Lara Jean is rejected and accidentally accidentally makes him think she got in. Miscommunication, a staple of rom-com relationship drama. 
   On a school trip to New York City Lara Jean finally comes clean to Peter and he's actually really chill about it. I really loved that the first thing he said to her was "hey, are you okay?" It was a reminder of just how kind of a person he is and kept me invested in their relationship. 
   Even when she decides to go to NYU instead and Peter breaks up with her, they can't stay apart for long. Bringing back all the nostalgia from the first movie, he writes Lara Jean a love letter and shows her that he's willing to make it work. Neither of them know what the future holds, but they're going to try to make it work. After all, love letters are what started their relationship and they're the perfect way to communicate long-distance.
   I really loved how, in addition to the main plot, Lara Jean's family bond was able to shine. From getting advice from her older sister Margot (who is totally team NYU) to a heartfelt scene with her younger sister Kitty where Lara Jean reminds her that even though she's going far away to college she still loves her, it is clear that sisterhood is a priority. As an older sister who is also planning on going out-of-state for college, this spoke to me. I could really relate to Lara Jean's turmoil.
   I do wish we got to see more of Peter's family and his connections with them. He did have a heartfelt conversation with his absent dad trying to reconnect, but I would have liked to see his mom and brother, who haven't been on screen since a short scene in the first movie. It also would have been nice if Lara Jean's friends had character arcs of their own instead of being mostly one-dimensional side characters, but besides these minor issues I really really loved the film.
   If you like your romantic comedies sweet, relatable, and a little cheesy in a good way, then you should definitely watch "To All The Boys: Always and Forever" for your next movie night.
   Rating: 4.5/5