Hey you, You is back!
Netflix's hit show is back and better than ever. But for those who have not yet indulged in it, be careful of spoilers below.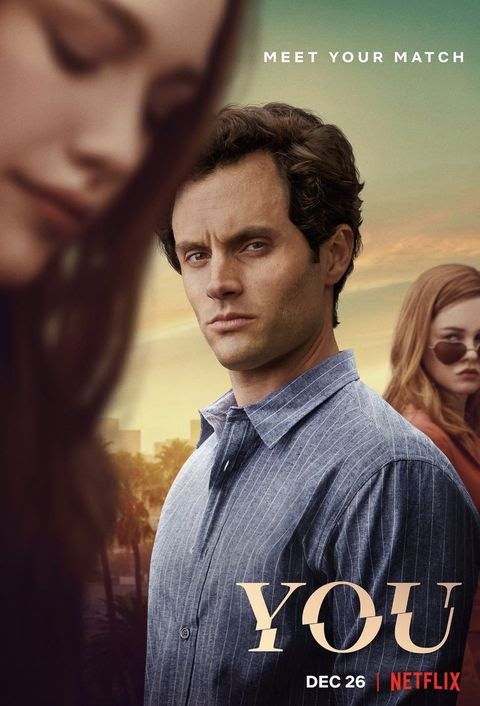 On Dec. 26, 2019, Netflix released the second season of You. Not only did this season surpass the first in originality, but fans once again found themselves in a love/hate relationship over whether to root for the protagonist Joe Goldberg, played by Penn Badgley.
   After relocating to Los Angeles to distance himself from his previous crimes, Joe finds his newest obsession: Love Quinn, played by Victoria Pedretti. Compared to the love interest from the first season, Elizabeth Lail's Guinevere Beck, Love is more likable as a character since she actually has a personality. 
   It's important to note that Joe no longer exists in L.A. since he now goes by the name of Will Bettelheim. 
   This season of You introduces fans to an array of characters, both old and new. Even though it is confirmed that Joe killed Beck in season one, fans are still able to see her through Joe's frequent visions of her. 
   Another season one character who makes an appearance is Joe's supposedly dead, ex-girlfriend Candace, played by Ambyr Childers. Perhaps Candace should have stayed dead since she quickly becomes entangled with Joe's dangerous life once again. 
   It can be argued that James Scully, who plays Love's twin brother Forty, steals the show by being the quirky yet lovable sidekick who Joe never asked for. 
   Fans were quick to notice that no matter where Joe lives, he always seems to find an adolescent in trouble. Ellie Alves, played by Jenna Ortega, is a teenager who lives with her older sister, Delilah, played by Carmela Zumbado. Joe finds himself stepping into the role of a parent when Ellie becomes involved with a troubled celebrity. 
   Throughout this season, Joe's backstory is slowly pieced together with scenes of his past. We learn that Joe grew up in a boy's home after being removed from his absent mother, someone he was attached to emotionally. It is important to note that Joe never clarifies whether or not his mother is dead. 
   Overall, season two was immensely better than season one since the ending wasn't predictable. There were numerous times when fans found themselves doubting their initial predictions and second-guessing their opinions. 
   However, one thing remains constant no matter where Joe lives, the infamous glass prison which houses those who make his life that much harder. 
      The new season of You begins with fans thinking Joe made a change for the better, however, we learn that bad habits die hard. Instead of meeting Love coincidentally, Joe stalked her. He then bought an apartment across the street. His new home is even complete with a telescope so he can creep on her from the comfort of his very own bedroom. 
   It was interesting to see how season two differed from season one since it started similarly: boy meets girl, boy falls in love, boy stalks girl. However, season two did not end with the love interest being killed off. Instead, we learn that Love is just as crazy as Joe. 
   In the ten episodes of You season two, Joe's dead body count reaches eight compared to Love's three. 
   Unfortunately, it can be assumed that fan-favorite Forty Quinn will not make an appearance in season three since he was shot and killed after figuring out Joe's secrets. In a surprising twist of fate, Forty was killed by a police officer who happened upon him, threatening Joe with a gun. 
   Season two ends with Joe moving into a suburb with his pregnant girlfriend, Love Quinn. But Joe is restless, and upon seeing his next-door neighbor, the only thing he can do is think, "Hey you." 
   However, Joe might want to remember that he is currently living with a woman who sees no issue with killing others to protect the people she loves. 
   A lot of questions remain after finishing the last episode: who is the next-door neighbor, is the baby really Joe's, and when will Joe face the punishment he deserves? 
   To any prospective viewers, be warned, you might start to second guess your moral compass as you begin to sympathize with a serial killer. You seasons one and two are now streaming on Netflix, and they're definitely worth the binge.