MLB Postseason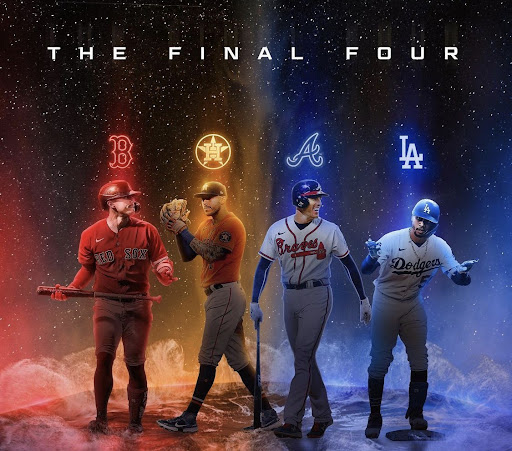 October baseball is here with the MLB postseason in full effect. With the Yankees and Cardinals already eliminated in the wild card, the matchups for the ALDS (American League Divisional Series) and the NLDS (National League Divisional Series) have been set. 
       The four series included the Red Sox vs. Rays, Brewers vs. Braves, White Sox vs. Astros and the Giants vs. the Dodgers. Unfortunately, our hometown Rays along with the Brewers, White Sox and Giants were eliminated in the divisional series matchups. The Giants, who had the best record in the MLB, took the Dodgers all the way to five games before being eliminated. The Rays, who had the best record in the American League, have begun talks about moving Tropicana Field to Tampa and possibly playing the second half of the season in Montreal. 
    With only four teams remaining, the matchups include the Dodgers vs. Braves and the Astros vs Redsox. Both teams are familiar with each other and have experience in the playoffs which will make for two very interesting and competitive series. Dodgers and Braves played each other in last year's NLCS and the Atros and Redsox played in the ALCS back in 2018. The players are thrilled to return to the postseason and show off their talents. 
     "I want to be able to show my son when he's older everything I accomplished," Astros shortstop Carlos Correa said. 
Correa, who is on the end of his contract, is hoping to prove his worth this postseason to extend his contract. 
       With the first matchup starting Oct 15, only time will tell who ends up in the World Series and who will win it all.