Record Breaker or Rule Maker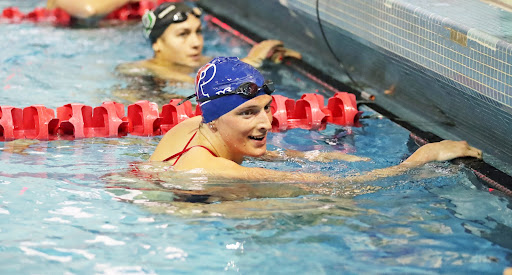 Lia Thomas is a competitive swimmer for the University of Pennsylvania. She is also a transgender woman and competes against other women which has brought to light a lot of controversy in the sport as well as the NCAA due to the numerous records broken after first entering competitions. 
The controversy began after Thomas' first collegiate swim meet for the women's team at UPenn where she swam the 200 and 500 freestyle. Thomas broke the woman's national records in both these events with the times she recorded at the meet. At the very next dual meet for UPenn, she swam the mile and beat her teammate by a whole 38 seconds, who placed second in the race.
With these astonishing swims and new records, by a 22 year old swimmer, the National College Athletic Association brought back to light very dated rules for athletes who are transgender. The old rule for the NCAA trans woman said that they would be able to compete on a women's collegiate team if they were taking hormone blocking drugs and estrogen for at least a year. Lia Thomas was in full compliance of this rule during her competitions in which she broke multiple swimming records. Then a new regulation was set into place which stated that transgender athletes must submit there testosterone levels at the beginning of their season, six months later, and four weeks before their championship competition.
For Lia Thomas, a lot of the future for her career is yet to be unknown. The University of Pennsylvania has not yet come out if she will be able to compete on their team coming the 2022-23 season or if she will keep her pool and team records. It is also unsure if she will keep her multiple National records yet either but this has brought a lot of controversy throughout the sport. Lia's collegiate team shows full support for her but others have come out that her records should not be allowed and that she is stripping the hard working woman that came before her. Due to Thomas, a lot of new questions have arrived for transgender swimmers and athletes all around, and it is very likely that the sport will change forever.