Philadelphia Eagles: It Could've Been Worse
While it was not the ending Eagles fans had hoped for, there were improvements this season.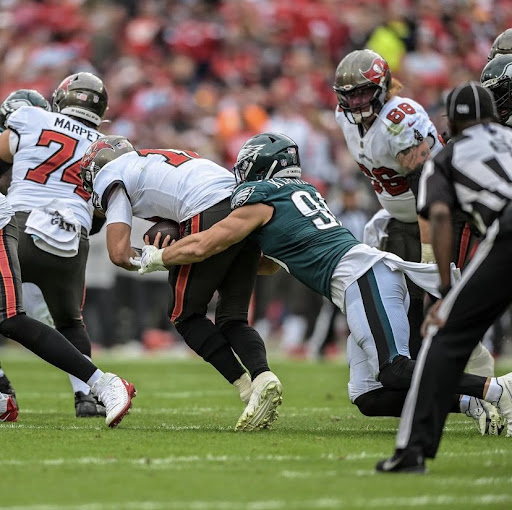 The Philadelphia Eagles finished the 2021 season with a 9-8 record, earning themselves a spot in the playoffs. Unfortunately, their season ended following a 31-15 loss to the Tampa Bay Buccaneers in the Wild Card Round.
   I am conflicted about this season. Should I be proud of my team? Should I be disappointed? Happy? Frustrated?
   Prior to the start of the season, CBS Sports had projected the Eagles to go 5-12, and my hot take was that the Eagles are better than a 5-12 team. With a brand new coaching staff and a first-year starting quarterback, it is an accomplishment in and of itself that a team expected to finish last in their division actually ended up with a playoff spot. After thousands of Eagles fans yelled at head coach Nick Sirianni to run the ball, he finally incorporated Philly's strong rush game— running backs Miles Sanders, Jordan Howard, Boston Scott and Kenneth Gainwell finished the season leading the league with 156.1 rushing yards per game. Wide receiver — and 2020 Heisman winner — Devonta Smith had an exceptional rookie season, breaking wide receiver Desean Jackson's rookie record for the most receiving yards in a season. Jackson set the record in 2008 with 912 yards, but Smith surpassed this stat in Week 18 against the Dallas Cowboys with 916 yards. On the defense, four-time Pro Bowl cornerback Darius "Big Play" Slay lived up to his name, finishing the season with three interceptions, nine pass deflections, 52 total tackles and two fumble recovery touchdowns.
   But there is still tons of work to be done before the Eagles can be considered a Super Bowl level team again.
   Let me get these two statements out of the way: Cut Jalen Reagor. Fire Jonathan Gannon.
   Wide receiver Jalen Reagor was nothing but a disappointment. When he was on the field, it was inevitable that something bad was going to happen. Every decision he made was the wrong one. Friendly reminder: The Eagles could have drafted Justin Jefferson, but why would they want a top five receiver when they can have Jalen Reagor? Riddle me that Howie Roseman.
   Defensive coordinator Jonathan Gannon has been interviewing for head coaching positions with other NFL teams, and I beg that one of these teams hire him. Please take him, please. I — along with every single other Eagles fan in this world — cannot handle Gannon's soft coverage defense anymore. We are used to blitzes, we are used to an overall aggressive defense, and that is what our players are used to as well. This checkdown, prevent defense, is not going to keep working in a city like Philadelphia.
   When all else fails, at least Dallas was eliminated from the Playoffs in the best way possible. And at least quarterback Carson Wentz did not even make the Playoffs because he could not beat the 3-14 Jacksonville Jaguars. How sad.
   The Eagles have three first-round picks in the 2022 NFL Draft: 15th overall from the Miami Dolphins for a 2021 trade-down from 6th to 12th, 16th overall from the Indianapolis Colts for Wentz and 19th overall.