Joyner Lucas Releases Debut Album "ADHD"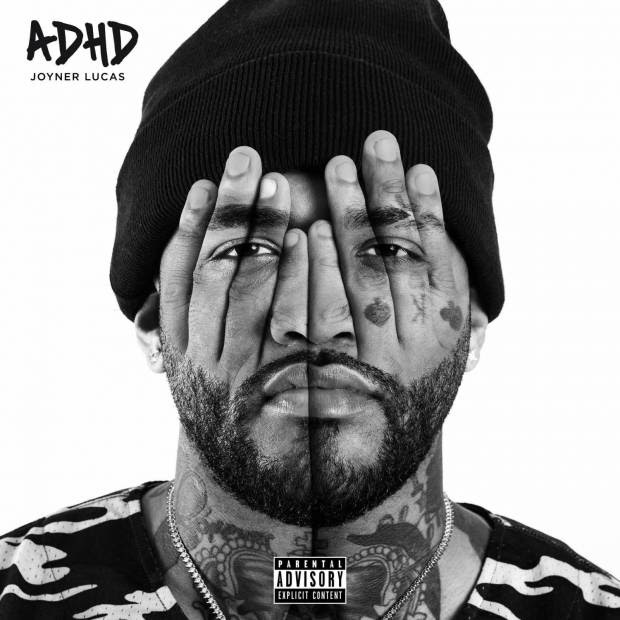 On March 27, Massachusetts rapper Joyner Lucas finally dropped his first album, ADHD. Lucas has been rapping for a long time and his debut album was highly anticipated. 
   Lucas went popular when he dropped his controversial song, "I'm Not Racist". In the song, he said how he felt about the difference in culture in the people of America, a lot of people have been buying his music. He has appeared on songs along with Chris Brown and Eminem.    
   The rapper was diagnosed with ADHD as a child and this album tells his story as it follows someone with ADHD and how the world treats them. In ¨ADHD¨, Lucas shows what he personally battled. His album shares the message that despite the way he was treated, he was able to overcome it and be successful. 
   Like other recently released albums, Joyner Lucas´ ¨ADHD¨ included skits. The skits in the album are different from skits in other albums. The skits in ¨ADHD¨ are people voicing their negative opinions and overall not liking Joyner Lucas. For example, the album starts with the skit ¨Screening Evaluation¨. It opens with a patronizing pediatrician showing a young Joyner Lucas images on cards. But the second the doctor doesn't hear the response he wants, he gets upset and starts shouting abusive names at the young boy.  
   The album has a lot of different content. There's a good variety of songs and styles. Lucas also shows off his expertise by switching up the flow of the lyrics of his songs. But one problem with the music is the songs don't follow a set theme. 
   Nine of the fourteen songs in ¨ADHD¨ were previously released. So, Joyner Lucas fans already knew what to expect from the album. But, the five songs that are new were pretty unexpected and all-around great to listen to. His songs have appearances from Chris Brown, Timbaland, Logic, Fabolous and King OSF.
   One song that has been trending is ¨Will¨. In the song, Joyner Lucas raps about his life and hardships using movies and show titles that actor Will Smith appeared on. Will Smith responded by posting on his social media that he is very honored to have a song made about his work. 
   Overall, Joyner Lucas´ debut album was a success. He's been making music for a while but he solidified his spot as one of the greatest rappers of this generation. However, he is not done. There are plenty of more albums and hit songs to come. 
Personal Scoring and Ranking: 9/10
Isis ft. Logic

Devil's Work

Revenge 

I Lied (Intro)

10 Bands ft. Timbaland

Lotto

I Love

Will

ADHD

Finally ft.  Chris Brown

Gold Mine

Still Can't Love

The War ft. Young Thug

Broke and Stupid

Kevin (Skit)

Chris (Skit)

Screening. Evaluation (Skit)

Comprehensive Evaluation (Skit)