"All Too Well" 10 Minute Version: Everything Fans Hoped for and More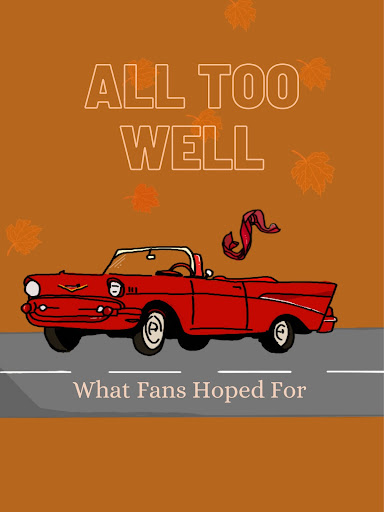 Rate: 4/5
As part of her effort to re-record all of her old discography in order to obtain ownership of all of her songs, Taylor Swift released "Red: Taylor's Version" Nov. 12. Along with re-recorded versions of all the tracks on Swift's original "Red" album, Swift also released many previously unreleased songs "from the vault" and updated versions of some of her old hits. Out of everything on the album, fans were most excited for the 10 minute version of fan-favorite song "All too Well." Did this song meet fans' high expectations?
"All Too Well" tells the story of the singer reminiscing about a past relationship that ended in heartbreak. "All Too Well (10 Minutes)" tells the story of the singer looking back on the same relationship, but instead of simply reminiscing, she focuses on how her partner left her alone and how toxic their relationship actually seemed to be.
This deeper, more complex story goes perfect with Swift's more mature voice that she seems to apply an extra grit to with this song. Adding to that is the much more intense melody that shifts from angry to sad to nostalgic as the tone of the song changes with Swift's view of her past relationship.
It's almost pointless to compliment Swift on her lyric writing skills cause that really goes without saying. Most songs deliver a feeling, like saying that "breakups are sad" or "it's so wonderful to be in love,"  but "All Too Well (10 Minutes) weaves metaphors and vivid imagery to tell a story that you can picture in your head perfectly. You would be able to feel the emotions behind the words, even without Swift's fitting singing behind it. But it is really with the lyrics, music, and singing all coming together that truly makes "All too Well (10 Minutes)" a masterpiece.
Until 7 minutes and 22 seconds into the song, then it kinda drags on. While it's not like the remaining minutes of the song after this point are terrible, they are just evidence of a steep dropping off point. The lyrics lose their power when Swift adds what is, frankly, a bit of a cheap shot at her former boyfriend about the ages of the women he chooses to date now. Additionally, Swift's delivery of some of the final lines of the song don't really hit as hard as they did before. I don't think this decline in quality would have bothered me as much if the lyrics about how Swift's old boyfriend keeps her old scarf because he remembers the relationship just as much as her wasn't the perfect conclusion to the story and the song, making anything past that just feel like filler. However; in a world where most popular songs are 2-4 minutes long, the fact that Swift was able to make 7 and a half minutes of a perfect song is an impressive feat.
"All Too Well (10 Minutes)" is an almost-perfect synthesis of songwriting and storytelling that Taylor Swift delivers with palpable emotion. It found a way to both capture and elevate the original song while delivering something that is completely new and will most likely change the course of pop music with it's unusual format. So, did "All Too Well (10 Minutes)" meet fans' expectations? No, it far exceeds them.