The Eagles Are Not Flying on the Road To Victory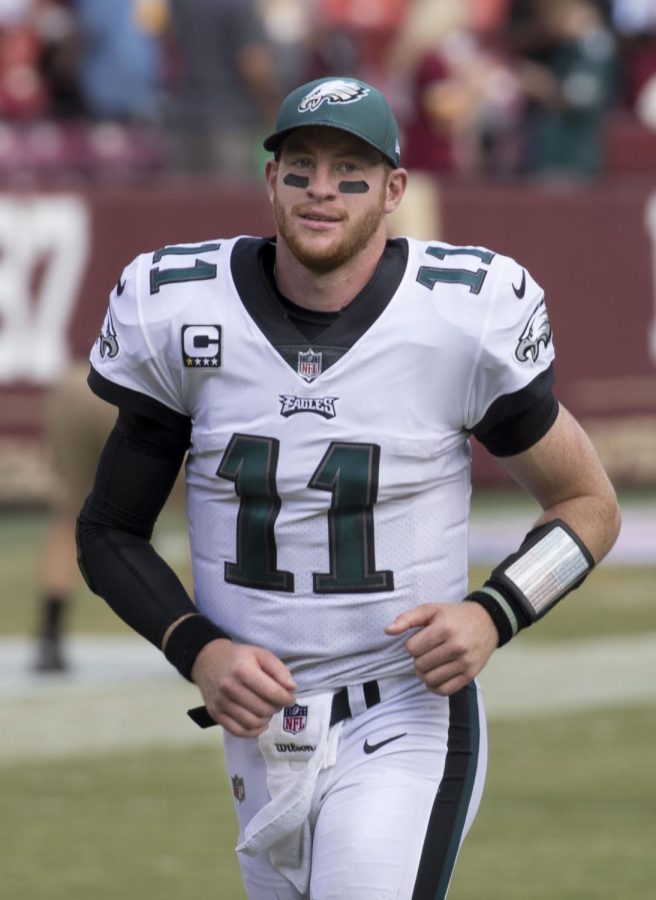 The Philadelphia Eagles are currently 1-2-1 after losing to the Washington Football Team (27-17) and the Los Angeles Rams (37-19), tying with the Cincinnati Bengals (23-23) and winning against the San Francisco 49ers (25-20) last Sunday. Despite Philadelphia's close victory, now putting them in first place in the NFC East, it is still safe to say that the Eagles are a bad team this season— and many have been pointing fingers as for who's to blame for the train wreck that this team has managed to become.
   It is incredibly clear that Carson Wentz is the leading cause of the problem, dragging the whole team down since the second quarter against the Football Team on opening day. Quite simply, he is awful. Like, historically awful. Last season, Wentz played all 16 games and had seven interceptions, while in just the first four games of the 2020 season, he has already thrown seven picks. He has an average attempt of 5.8 yards and a completion percentage of 60.6%. Ranking him 29th in the NFL, he has a QB rating of 45.1. Wentz already has as many games with a rating below 73 in the first three games this year as he did in 40 games in the last three seasons combined. This has made Wentz responsible for 25 percent of the sub-73 passer ratings in the league this year.
   This is Wentz's fifth year playing in the NFL, so there is no excuse as to why he is playing like a rookie. He has had extremely poor accuracy, constantly overthrowing his players and causing turnovers. In the NFL, when a team turns over the ball more than they receive turnovers from the other team, it is almost guaranteed that they will lose that game. With that being said, it is not good that the Eagles are leading the league in turnovers and are ranking dead last in turnover differential. Carson Wentz has just not been the same player since he tore his ACL in the Eagles' Super Bowl winning season, and fans have major concerns as to whether Wentz really is still 'the guy,' or if it is time to put him on the bench.
   However, head coach Doug Pederson seems to have more faith in Wentz than Eagles fans do.
   "We're going to continue to get better. Carson's our quarterback. We're going to get it fixed, he's going to get it fixed," Pederson said Sept. 28 on SportsRadio 94 WIP with Angelo Cataldi. "The whole division isn't playing very good football. We're not that far off."
   Looking at the upcoming games for the Eagles, they will be playing the Pittsburgh Steelers, the Baltimore Ravens and the New York Giants. It would not be a surprise if they end up going 1-4-1 before there being even the slightest possibility of winning their second game of the season against the Giants.
   So nice try Doug. I appreciate the optimism, but I do not see any of this happening.
   While some blame Pederson for the Eagles' demise, I don't really see coaching as being the sole problem. The only truly bad play call I've seen Pederson make so far this season is when he made the decision to punt in overtime against the Bengals instead of going for the fourth down. Other than that, Pederson has overall made some good offensive play calls, but Wentz has not been able to pull through with a lot of those calls due to his inconsistency.
   As to whether Pederson really does have faith in his quarterback like he claims he does is a bit questionable. If he truly believed in Wentz's abilities, then he probably would have been more apt to go for a short fourth down instead of settling for a field goal or punt.
   Moving to the other side of the ball, there's the Eagles defense— not as bad as the offense, but still below expectations.
   "Things that we typically have been very good at over the last four years, we're not very good at right now," defensive coordinator Jim Schwartz said on SportsRadio 94 WIP. "Over the last four years, we're the number one run defense in the NFL. We're not playing like that right now."
   The Eagles defense usually dominates, and although they're not at that high standard right now, you can't blame Schwartz and his defense for the Eagles' losses so far this season. The Eagles franchise has really been built to win on offense, and when the offense cannot do that, it becomes a major concern.
   Now would it be overdramatic to say this early that the Eagles' season is over? Maybe, but it is not a completely irrational thought. Statistically, teams that start out 0-2 only have about a 12 percent chance of making it through to the postseason. In Eagles history, they have started out with an 0-2 record 17 times and have only made it to the playoffs three of those times, winning only one of those three games.
   My conclusion: The Eagles are a bad team this year. It's as simple as that.